7 OF THE BEST REASONS TO HAVE A FALL WEDDING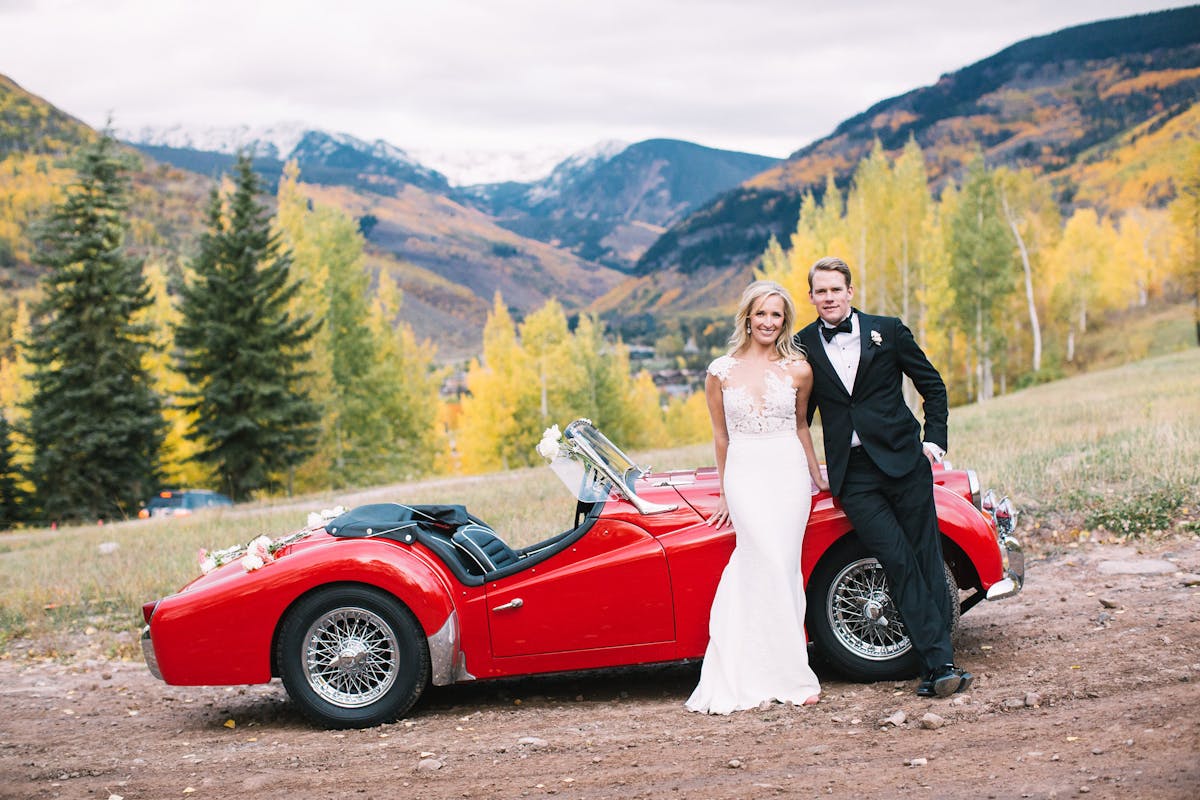 7 OF THE BEST REASONS TO HAVE A FALL WEDDING
Planning your wedding comes with a whole host of decisions—the dress, the food, the venue, the cake, and on and on. But perhaps above all else, one of the most important decisions is what time of year you want for your special day. Of course, it's the right time for a wedding all year round, but we here at Larkspur Events & Dining are especially big believers in the beauty and convenience of a fall wedding.
Any season has its perks, but hosting a fall wedding is a particular favorite of ours. While summer comes with sunny blue skies and winter brings its festive charm, there's just something special about the romantic autumnal months. It's no wonder why September, October and November weddings are so popular—especially here at Larkspur. Couples simply can't resist Vail's gorgeousness in autumn.
So why exactly are weddings in the fall some of the best? What is it about this time of year that works so well for tying the knot? Here are 7 fundamental reasons why fall weddings are some of the best.
FALL WEATHER IS THE PERFECT TEMPERATURE
While a late summer wedding may still cling to heat, September and October weddings tend to have just the right temperature for outdoor gatherings—think an alfresco dinner or a cocktail reception during sunset hours. You don't have to worry about a wintery blizzard, nor will your guests sweat in the sweltering sun.
Plus, if all else fails, you've already expected the worst and hoped for the best with planning a fall wedding. A light drizzle or a slight breeze isn't the end of the world. We here at Larkspur have rainy day alternative spaces if the weather dampens your outdoor wedding. It's always good to plan ahead with flexible arrangements, so count on us to keep things running smoothly come rain or shine.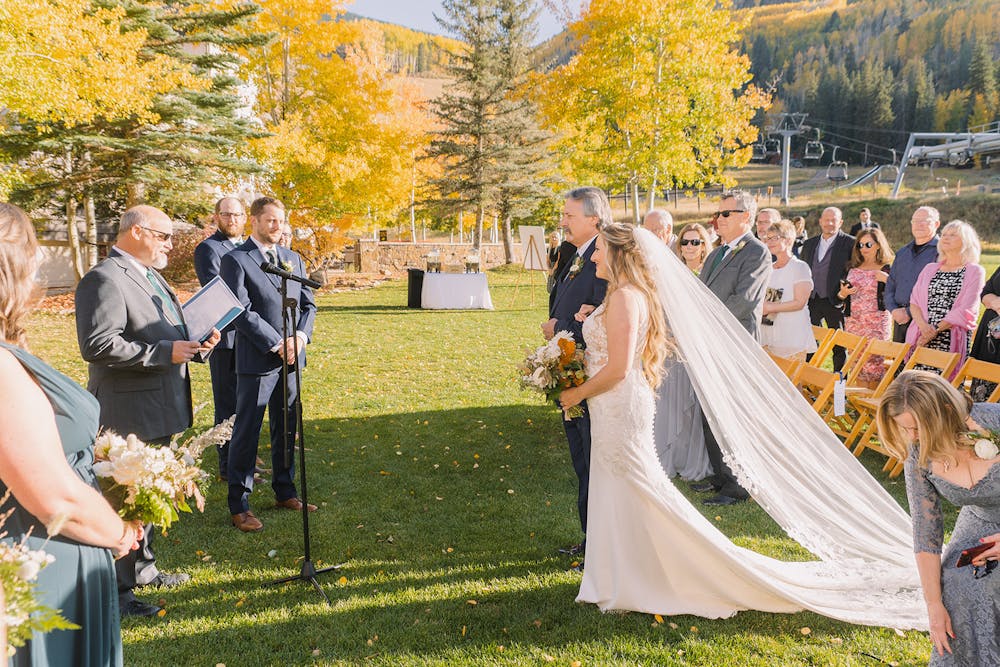 AUTUMNAL COLORS ARE STUNNING
Fallen yellowing leaves, orange pumpkins, spiced red wine—the color scheme of an autumn wedding is simply unbeatable. The whole fall season has the perfect aesthetic of earthy tones and textures, which add a classy touch to your wedding style and decor that works extra great in photos.
You can echo the warm color scheme throughout all aspects of the wedding too—from invitation typography to groomsmen ties to the icing on the cake. Golds, browns and plums in floral displays centering your table settings will look magnificent too. Beautiful fall weddings certainly look the part.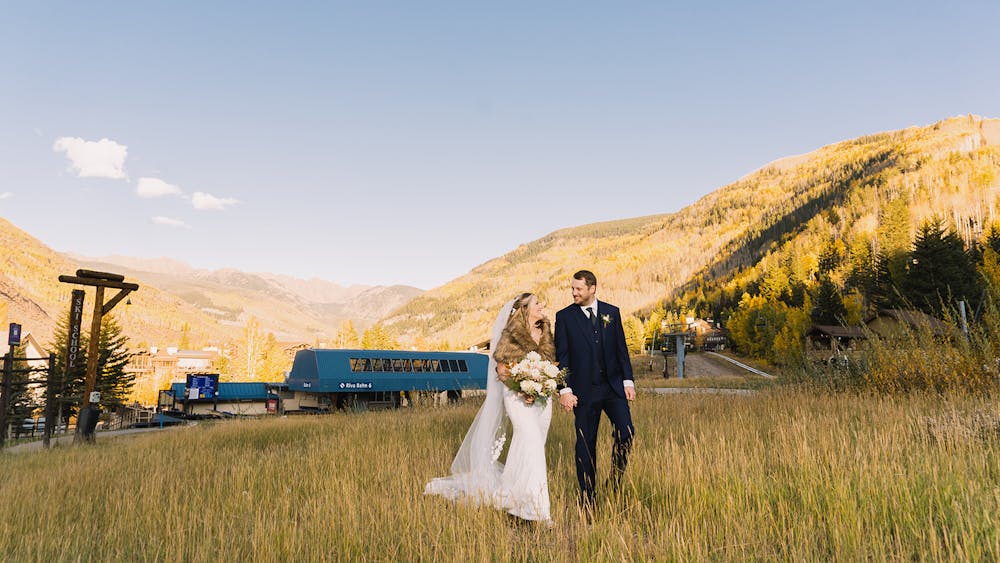 FALL MAKES THE PERFECT OUTDOOR BACKDROP
With beautiful fall weddings bursting with vibrant colors, you can make the most of the autumn foliage as your backdrop. And don't worry if you've got a limited budget for decor—the natural outdoor scenery makes up for it. Plus, wedding photographers love warm fall lighting. They'll capture outdoor photos with a distinctive autumnal atmosphere.
Our pristinely manicured lawn space has a spectacular backdrop just steps from our slope-side patio. Choose an outdoor ceremony and take in the scenic views of the majestic Gore Mountain Range and surrounding aspen trees.
AUTUMN WEDDING MENUS ARE HEARTY AND WARMING
What's an easy way to your guests' hearts? How do you truly excite them? Food is the answer. Autumn wedding menus will delight any foodie with a wide selection of heartwarming culinary options—the kind of rich home-cooked meals that everyone loves.
Instead of summer salads, fall brings uber-comforting foods like soups, casseroles, pastas, pies and puddings. All the good stuff that's like a warm hug from a best friend.
Browse through our current events menu selection to see a sampling of what we offer. We have a whole host of culinary delights for you to choose from—whether you dream of a relaxed buffet spread or a formal 3-course sit-down dinner. Regardless of what you desire, rest assured that our culinary offerings are customizable to your taste and preferences.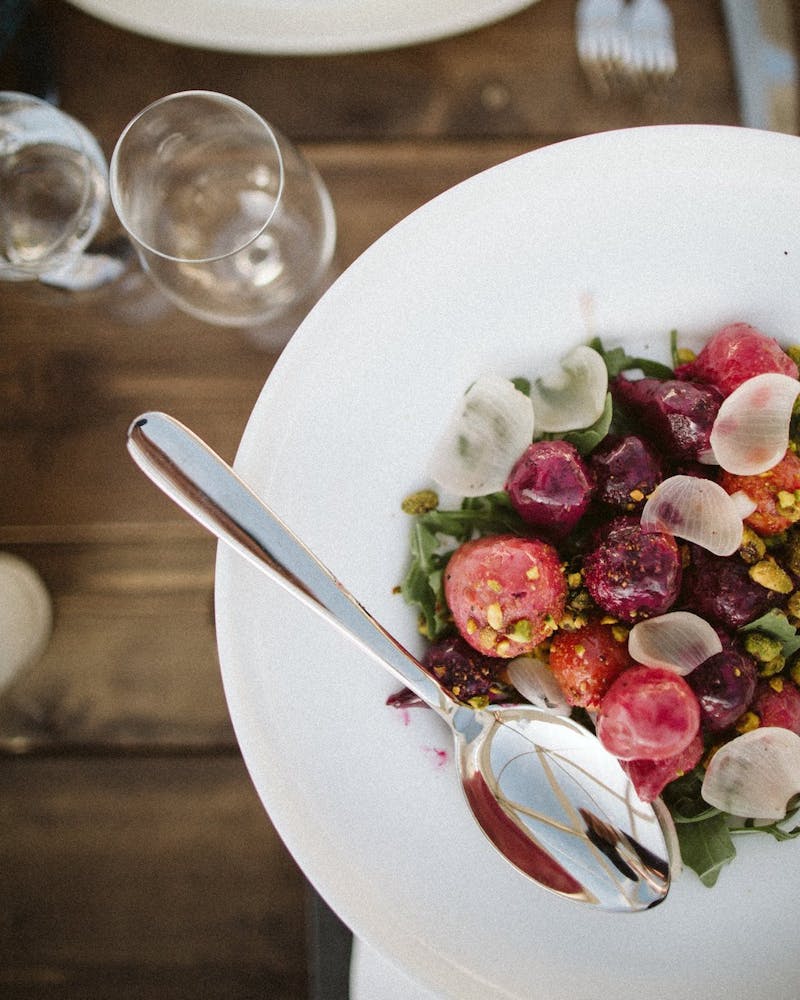 MORE GUESTS CAN MAKE IT
Weddings in the fall are more convenient for your guests, especially if you have a long list of invitees. With summer out of the way, most people will have already been on their sunny vacations, meaning you don't need to dodge any dates your most important VIPs can't do.
Conflicting obligations simply aren't much of a problem in the fall. Better guest availability means you won't be disappointed by your lack of confirmed RSVPs.
FALL'S LATE-NIGHT EVENING VIBES ARE MAGICAL
Evening times are a special part of your big day—it's usually when the champagne-fueled celebrations truly start rolling. Fall makes these party evenings even more special too, especially if it's an October or November wedding when fireworks start to light up the night sky.
Our elegant patio space adds that je ne sais quoi to your after-dark celebrations. Open up the infinity doors to the bar, and you'll have a large combined space to gather, dance and socialize. Don't worry about the cold either—outdoor fire pits and blankets can keep your guests snug as they watch fireworks over Vail's Golden Peak slope.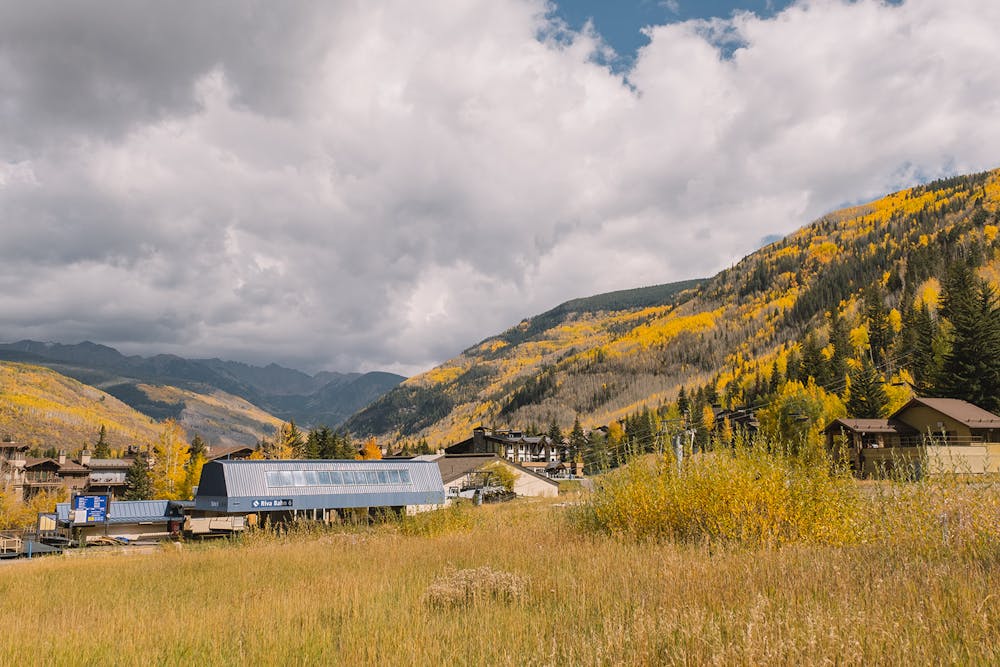 YOU AVOID PEAK WEDDING SEASON
If it helps, planning a fall wedding can save you money too. With summer weddings in such high demand, perhaps it's best to avoid the peak season when prices with vendors and suppliers soar. Then come autumn, these prices tend to drop again. Plus, avoiding peak season means there's a better chance all your guests can attend with summer weddings out the way.
A fall wedding is the number one choice for many of our Larkspur couples. Our unbeatable hospitality and decades of experience planning beautiful fall weddings is something you can rely on, no matter what kind of special day you dream of.
GET IN TOUCH TO PLAN YOUR FALL WEDDING
Want to start planning your special dream day? Whether it's a September, October or November wedding, we've got everything you need here.
Get in touch with our skilled wedding events team who will help plan and execute every detail flawlessly as you savor every moment. Contact us today for more information.
Check out our other blogs here for more information on the exciting things we can help plan.