All You Need For a Winter Wonderland Wedding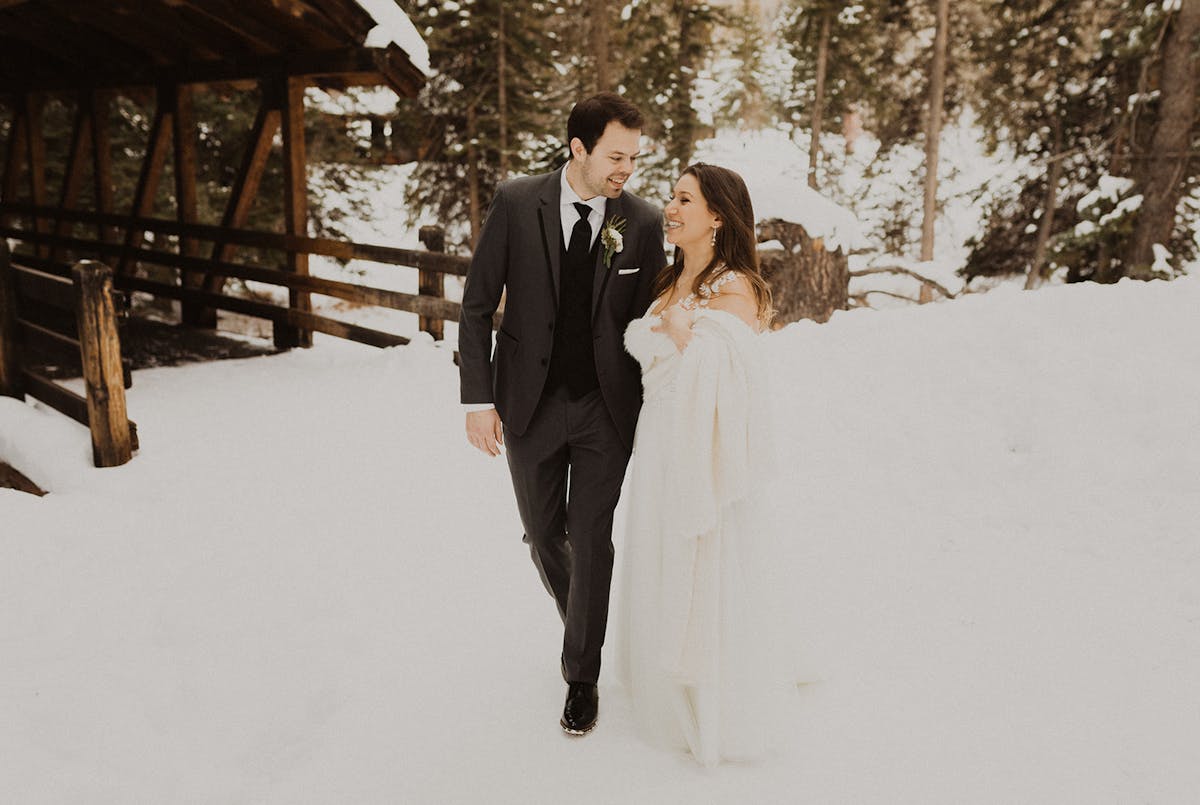 Have you always dreamed of a winter wonderland wedding? Fairytale snowy landscapes, roaring fires, glittering lights - it sounds so picturesque. It's arguably the most romantic of backdrops. In this blog post, we'll talk through all you need for a winter wonderland theme, and explain how we can make your winter wonderland wedding dreams come true at Larkspur Vail.
A Magical Winter Wedding Venue
What's the biggest must-have for a winter wonderland wedding? A beautiful setting, of course. And Larkspur Vail ticks all the boxes on the location front. Make your promises at our Colorado wedding venue and you'll enjoy a backdrop of snowy mountain peaks, courtesy of the magnificent Gore Range. Our resort is in a quiet spot in Vail Village, Vail Valley, surrounded by snow-dusted aspen trees. It's every photographer and videographer's dream for shooting, and you're guaranteed an out-of-this-world wedding album.
An Atmospheric Setting
From the intimacy of our softly lit private rooms to the glitz and glamour of the Great Room, your options for your wedding ceremony and reception are plentiful. Many of our guests want to take advantage of the spectacular views here and opt to say their vows in the open air. If you fall into this category and like the sound of an outdoor ceremony, you can choose our much-loved Patio.
A Menu Fit for the Occasion
Another key ingredient for a winter wonderland theme is a food and beverage menu that's perfectly in-sync with the occasion and the season. Our ultra-talented chefs will create a menu and set-up that's personalized to you as a couple, and we always go the extra mile to wow your guests. That might mean creating areas for steaming hot chocolate, warm winter cocktails, peppermint patties, ice luges or s'mores. Or you might consider an elegant cigar bar. Whatever your winter wonderland wedding ideas, we're here to make it happen.
A Personalized Service Style
Our skilled events team knows exactly what goes into making a winter wedding unforgettable. We'll work hard to understand your vision for your big day, executing everything with our signature style. We'll arrange winter wonderland decorations just right for you - think faux fur throws, frosted centerpieces and candle-lit walkways. And we'll work closely with the restaurant team to ensure everything's on time and in order. Leave the hard work to us - all you need to do is enjoy your special day.
The Opportunity for Bridal Party Bonding
Naturally, the big day itself is what everyone's focused on, but don't underestimate the joys of the pre- and post-wedding activities. At Larkspur, you have plenty of choices when it comes to spending quality time with those dearest to you and your other half. Make the most of the fresh mountain air and get out into the great outdoors - there's snowshoeing, cross-country skiing and downhill skiing in close proximity to our venue (we're within easy walking distance of the entrance to the Riva Bahn ski lift).
If you'd prefer something a little more low-key, our après-ski scene won't disappoint. Enjoy al fresco celebratory cocktails with a postcard-worthy view or curl up with hot chocolate and marshmallows.
Vail's number one events venue isn't just for winter wonderland weddings. Get in touch to chat with a team member about glorious summer ceremonies, bachelor and bachelorette parties, rehearsal dinners, receptions and everything in between.
Check out our other blogs here for more information on the exciting events we can help you plan.