ALL YOU NEED TO KNOW ABOUT WEDDING- CEREMONY ONLY EVENTS ON THE LAWN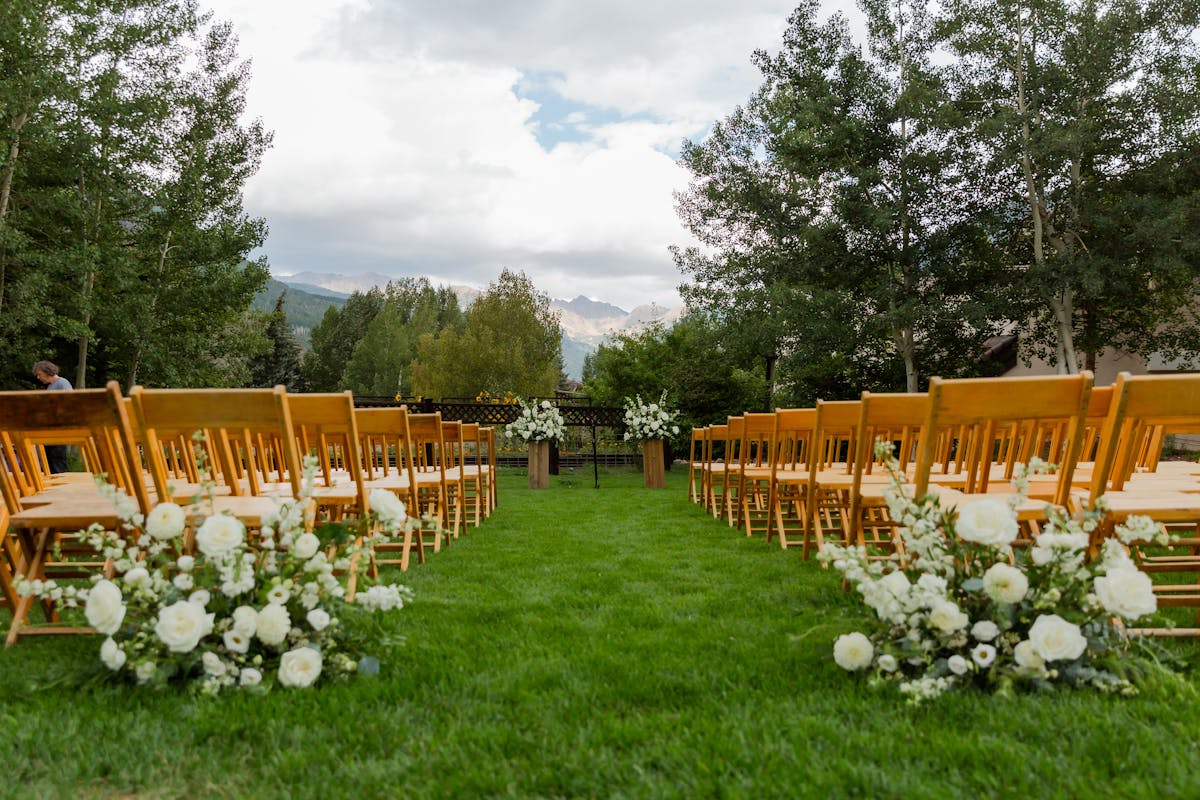 Contrary to what some people may assume, Larkspur is a wedding ceremony-only venue too. We'd love it if you stayed with us for your entire celebration, but we totally understand if you have another venue for your reception lined up—or simply aren't having a wedding reception or party at all.
Are you pursuing wedding venues for a ceremony only? If so, we have the perfect space for an unforgettable ceremony fit for your big day: our perfectly manicured lawn.
We've hosted countless wonderful wedding ceremonies on our grounds, but those that took place on the lawn are some of our favorites. And it's not just weddings the lawn's played host to—we put on all sorts of outdoor events, from elopements to corporate lunches to big birthday bashes to beautiful engagement parties. So if you're ever in need of a gorgeous lawn for a birthday party or other type of event, give us a call!
Our events team will do anything to make your celebration as special as it can be, and if it means being your wedding ceremony-only venue, that's fine by us.
Let's take a closer look at why the lawn is such a stellar space for a wedding or elopement ceremony.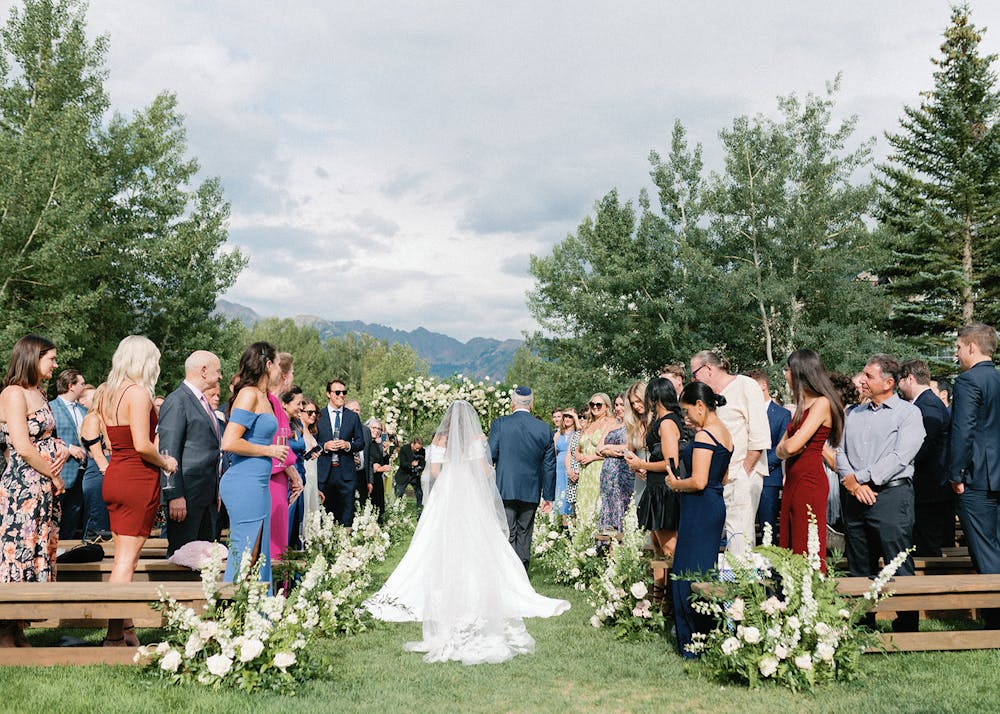 OUR LAWN IS A SPECTACULAR CEREMONY SPACE
There's something special about an outdoor ceremony. Situated just steps away from our outdoor patio space, the lush lawn often takes center stage when couples come to look around. It's the unbeatable panoramic views of the Gore Mountain Range that stop you in your tracks—an event here adds that that je ne sais quoi to your day, especially wedding ceremonies when you want that super romantic WOW factor to blow your guests away and look picture-perfect in photos.
Bordered by Vail's iconic aspen trees and sitting adjacent to Golden Peak ski slope, the lawn is a picturesque spot you have to see to believe. So feel free to visit and check out the space in person.
The sky's basically the limit for your ceremony guest list too. Trust us, you'll want as many of your loved ones with you to enjoy these views.
When is the lawn available for a ceremony?
Although we're not exclusively a wedding ceremony-only venue, clients booking the lawn for just the ceremony can have the space any time up until 3 pm. And join us for your reception here with us too!
What happens in bad weather?
Colorado weather can be unpredictable. However much we may cross our fingers for sunshine on your special day, sometimes the rain clouds will roll in. But don't worry if they do, we're a flexible wedding ceremony-only venue that has a backup Plan B just in case: the Great Room, an elegant and airy space that accommodates up to 100 seated guests.
Can chairs and other rental items be used on the lawn?
Absolutely. We're proud of how pristinely we keep the lawn. The lawn is all yours to enjoy, including the use of chairs, decorative arches and any other props to jazz up the space and get it looking extra-magical.
We have a list of trustworthy vendors we've worked with for years, but you're also not confined to these particular contacts.
Vendors will have two hours prior to the event start-up time to set everything up—however, we'll try to be as accommodating as possible!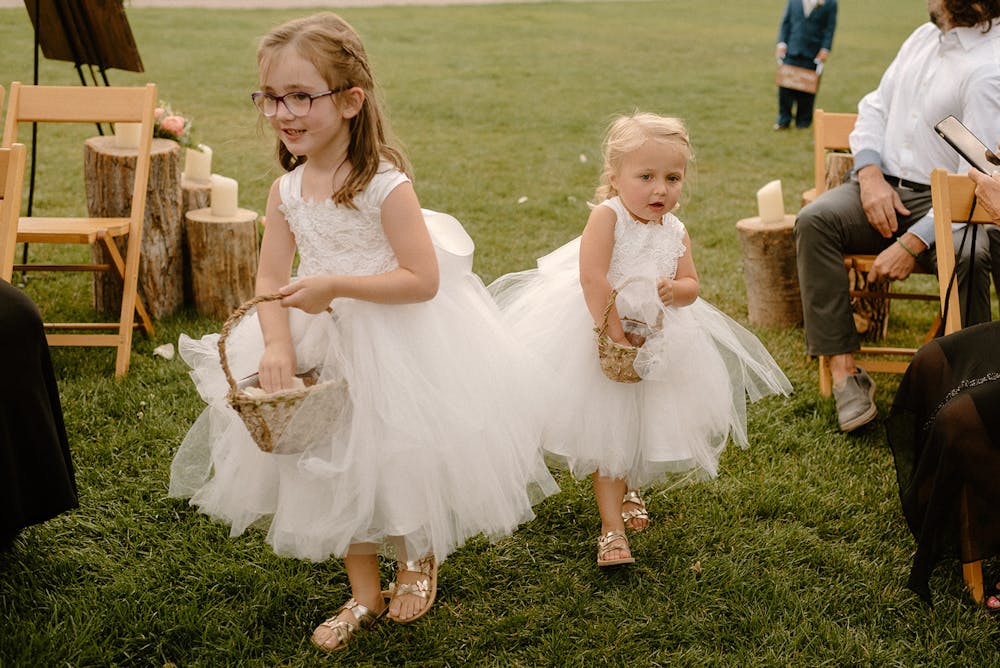 WHAT OTHER EVENTS CAN WE HOST ON THE LAWN?
Weddings are our pièce de résistance, but we also take great pride in our versatility. Larkspur's friendly and skilled event team has experience planning celebrations of practically every kind, from elopements to anniversaries to bachelor and bachelorette parties to corporate events like charity fundraisers and company awards. Virtually anything is possible here.
Whatever the occasion, our talents lie in being able to take a vision and execute it flawlessly. Turning dream celebrations into a reality is what we do best.
Is Larkspur catering available?
Definitely! We'd be more than happy to cater for your event no matter what it is. Larkspur cuisine is renowned for its innovation and creativity, so rest assured you and your guests will be fed well.
Our first-rate team of kitchen connoisseurs are also masters in creating you a menu that perfectly fits the moment. We'll collaborate directly with you to create a personalized menu that excites the senses and fits your preferences to a T. To get a taste of what we can whip up, check out our fully-customizable menus from hors d'oeuvres to buffets and wedding cakes.
Please note due to health and safety food concerns and Colorado liquor laws, we unfortunately cannot allow guests to bring in their own food or alcohol; however, we do make an exception for wedding cakes if you're looking for a wedding ceremony-only venue.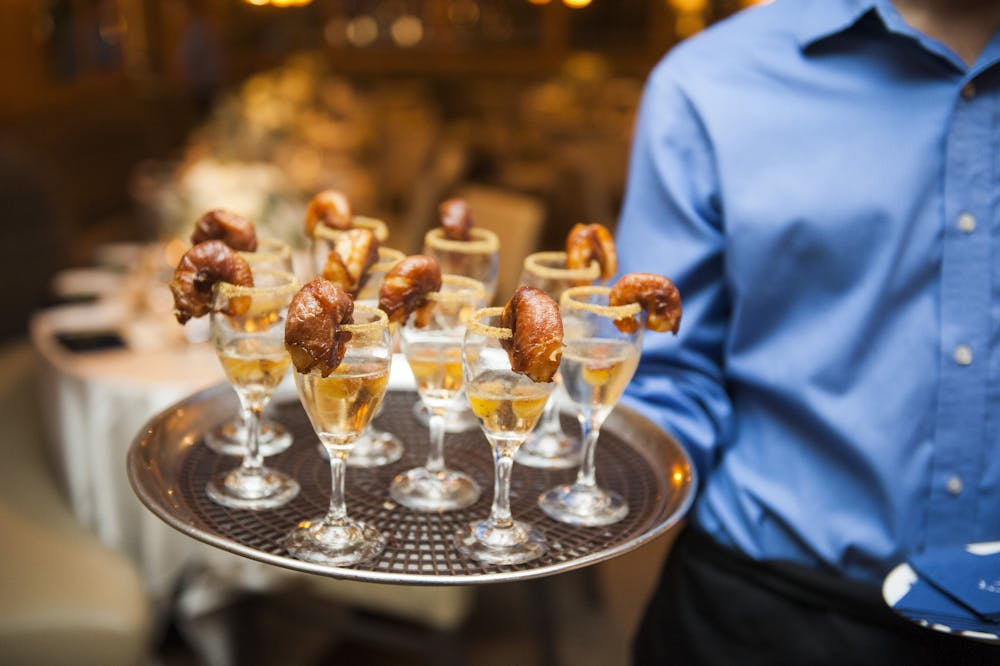 CHOOSE US AS YOUR WEDDING CEREMONY-ONLY VENUE
Are you seeking wedding venues for a ceremony only? If so, we're excited to have you on our lawn! Inquire today to get the ball rolling. Wedding venues don't come much more extraordinary than ours. Contact us today for more information.
If you've got any other questions regarding the Larkspur experience, make sure you check out our FAQs page too.