An Outdoor Wedding in Vail: Wedding and More
We want your outdoor wedding at Larkspur to be the most memorable day of your life, so we're here to execute every detail of your plan with the utmost care and attention. You have so many options at Larkspur, from a cocktail reception on our picturesque south lawn or an outdoor ceremony with dining al fresco on our patio to a large reception indoors. However you envision your special day, we'll make your customized wedding at Larkspur just the way you want it.
Choose a Vail, Colorado Wedding
With our manicured lawn and stunning surrounding views, we have a picturesque outdoor setup if your heart is set on a outdoor ceremony. An additional fun item to consider is a dance floor on our mountainside patio space.
While many couples opt to have an outside ceremony and reception, they do come at an additional cost. For more information, get in touch today.
Enjoy Our Spectacular Surroundings
Our spectacular views of the Gore Range make a perfect backdrop for extraordinary wedding celebrations. An outdoor event on Larkspur grounds will immerse you and your guests in Vail's scenic beauty. A reception can be the best way to take in the mountainscape as we'll provide everything necessary for your dream wedding.
Feel Secure with Our Preparations
A wedding can become whatever you desire, whether it be a formal dining area, a lit-up dancefloor, or a cocktail bar, so take a look at our event gallery for inspiration. The outdoor spaces come with a variation of floorings to ensure maximum comfort whether rain or shine, and there's additional weather protection available in the Great Room.
Explore Our Outdoor Grounds
Our luscious garden lawn is ready for a summer ceremony set amongst breathtaking views of Vail's ski slopes. So enjoy these beautiful grounds for your wedding ceremony and cocktail reception. We also have an outdoor patio area adjacent to our bar and dining room and the lawn, which is perfect for dining al fresco.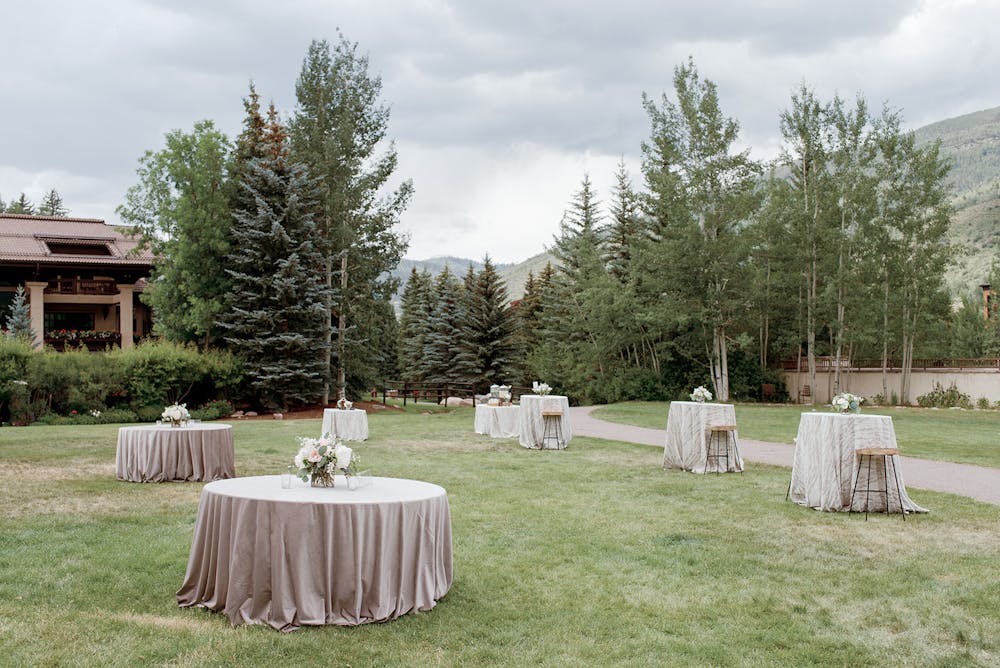 Come Inside and Celebrate
After the outdoor ceremony, come inside our venue to enjoy an array of other incredible options. The capacity of dining room is 200 guests or holding a reception for up to 300 guests. We also have a full dining room with a flexible seating arrangement to suit your wishes. Both of these options are perfect settings for experiencing the seasonal and inspired cuisine brought to you by our talented chefs.
Our Bar and Dining Room: the Perfect Combination
Our airy bar with patio access through the infinity doors is a popular choice for those wanting to make the most of our venue. Soak up the panoramic views of the sweeping mountain views, and then come inside to dance the night away. With the addition of the dining room, you'll have a seamless transition of three spaces to accommodate your wedding party, whatever the size. Remember we can host wedding ceremonies, cocktail receptions, rehearsal dinners, bridal showers, and so much more.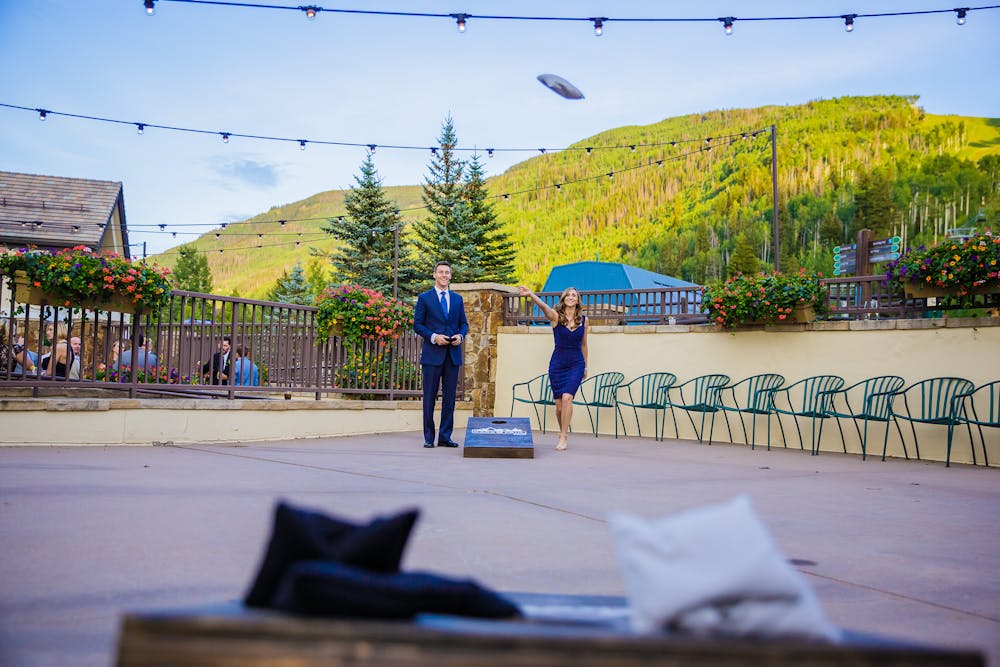 Get the Best of Both Worlds
As we've mentioned, Larkspur wedding events are customizable to your wishes. So if you'd love to have the best of both worlds, you do have the option to use both the indoor and outdoor spaces alongside each other. In the case of unexpected bad weather for outdoor weddings, we can also reserve the dining room area to ensure that no mishaps disappoint your day.
Contact Us and We'll Be Happy to Help!
As one of the most beautiful Vail Colorado wedding venues, we here at Larkspur would love for you to choose us. We're ready and willing to help plan your unique day and hope to bring your dream wedding vision to life. Whether it's a summer or fall tent wedding or an outdoor ceremony with our indoor venue spaces, we've got a unique plan for you.
If you'd like to speak to a member of the team, get in touch with us today. We look forward to hearing from you!
Check out our other blogs here for more information on the exciting events we can help you plan.