COLORADO WEDDING PLANNING DO'S AND DON'TS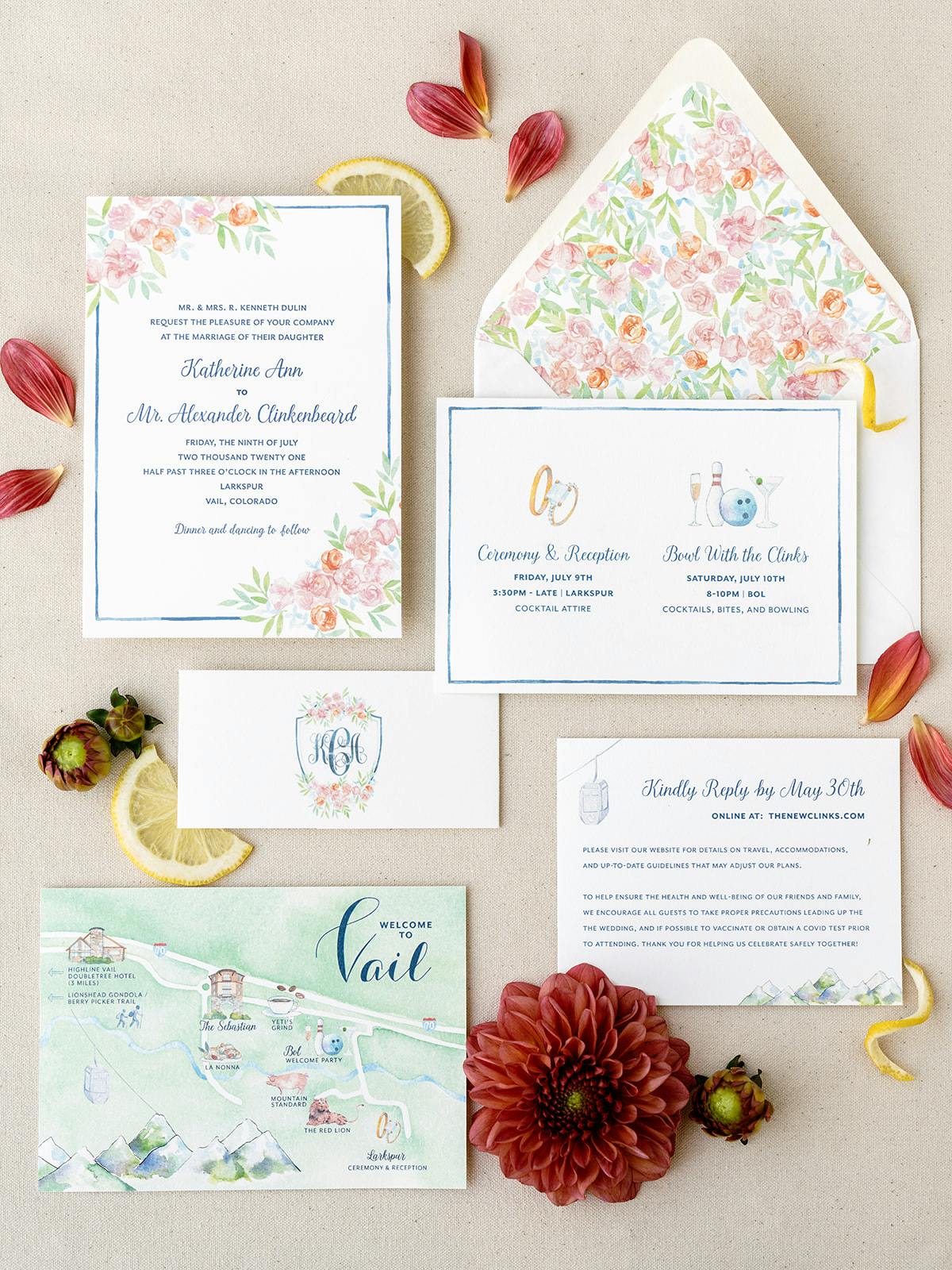 Colorado wedding planning is like any other destination planning—it comes with a long list of to-do's (and to-don'ts) to make sure everything runs without a hitch. But don't worry, we're here to clarify a few things and lend a helping hand with the all-important organization of your big day. After all, our Larkspur team is all about wedding planning.
So why does Colorado mountain wedding planning require special attention? And what kind of things should all Larkspur couples be doing (and not doing) leading up to the wedding day?
Well, if you're recently engaged and have chosen Colorado's picturesque mountains as your destination, let's look at the all-important dos and don'ts of Colorado wedding planning.
The number one rule: Get very excited! You're in for a magical day…
COLORADO WEDDING PLANNING DO'S
So what are the must-do's for wedding planning in Colorado? What should every couple be ticking off their checklist to ensure they savor every moment?
DO: PREPARE FOR BAD WEATHER
Colorado weather can be super unpredictable. A day's forecast can rapidly change in seconds up here in the mountains—so prepare for the worst and hope for the best, we often say. It can also get pretty chilly in the mountains at night, even in the warmer months.
But it's not all doom and gloom. We love all seasons here in Vail, especially summer when the days are full of sunshine and crisp air. Winter is particularly beautiful too. It's when the town turns into a magical fairyland of lights, jubilant festivities and snow-capped roofs. We've hosted many snow-filled winter weddings that turned out exactly how the couples imagined. Take a look at our photo gallery.
The key to weather preparation is to be flexible—just like our venue—we'll always have a contingency plan just in case, but more on that later...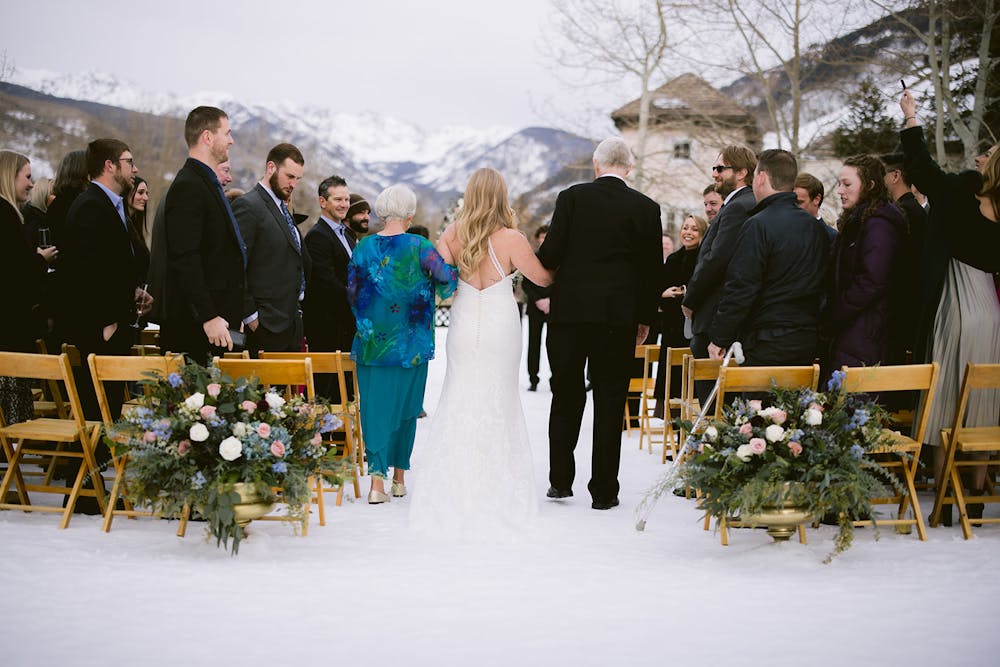 DO: MAKE THE MOST OF THE OUTDOOR SETTING
No Colorado mountain wedding is complete without soaking up your incredible surroundings. Chances are one of the main reasons you've chosen a premium mountain wedding venue like ours is its spectacular setting—so make the most of it!
Take endless photos, pick gorgeous outdoorsy decorations and provide plenty of seating with blankets to keep your guests warm in winter (or lots of shade in the summer). You could even plan some outdoor activities like lawn games or a bouncy castle to keep little ones entertained. The opportunities are endless.
As a 5,500-square-foot venue, we have a range of outdoor spaces here at Larkspur—including our gorgeous lawn that overlooks aspen trees and rolling mountain hills, or our slopeside patio space that sits next to Vail's Golden Peak ski slope. Both options provide stunning views you just have to see with your own eyes to believe.
Take a closer look at our various spaces.
DO: HIRE A TOP-TIER WEDDING PHOTOGRAPHER
Every Colorado mountain wedding deserves to be photographed well. So make sure you dedicate some time in your day to take some photographs as newlyweds and with your loved ones. Colorado's rocky mountains make a picture-perfect backdrop.
We have a list of trusty, tip-tier photographers we can recommend—ask away! Or check out our Instagram page where we often highlight some of Colorado's best photographers who've previously shot our Larkspur weddings.
DO: HELP YOUR GUESTS PLAN AHEAD
Good Colorado wedding planning involves making sure your guests are cared for—so make sure you look after them, especially the out-of-town guests traveling many miles to be with you on your special day.
You can help your guests plan by providing all the information they need on your invites, including things like accommodation recommendations, directions, travel and transport links, dress code (i.e.. dress warmly for winter and wear lawn-appropriate footwear in summer), etc.

DO: FILL YOUR BELLIES WITH SEASONAL FOOD
No wedding planning in Colorado is complete without thinking of the delicious food you're going to serve. Up here in the Rocky Mountains of Colorado, we pride ourselves on serving up all the hearty food you need. Think: heart-warming comfort food in winter and delectable light bites in summer—all washed down with plenty of flowing champagne and specialty cocktails.
We here at Larkspur are skillful in creating food that fits the moment perfectly. There's a reason why we're one of the most highly acclaimed venue in Vail: our chefs work tirelessly to come up with culinary creations that wow our guests. We'll collaborate with you to create a personalized menu and dining style that perfectly fits your wedding and budget. The sky's the limit!
Check out what sort of creations we're currently serving up on our events menu.
COLORADO MOUNTAIN WEDDING PLANNING DON'TS
So what are some common mistakes to avoid in Colorado mountain wedding planning?
DON'T: PANIC IF THE WEATHER TAKES A TURN FOR THE WORSE
If you've chosen an outdoor wedding in summer, rest assured we here at Larkspur always have a Plan B in place in case the weather's not on your side: our Great Room. It's an elegant and light-filled space that can accommodate up to 350 guests, perfect for whether you've planned a large and lavish banquet or a late-night party of bubbly and live music.

DON'T: FORGET ABOUT THE ALTITUDE
One of the most important steps for wedding planning in Colorado is preparing for the mountain altitude—the town of Vail sits at 8,150 feet above sea level, so it's a very real thing we tell all of our guests to be aware of. Here are some of our tips for dealing with the altitude:
*Beware of the symptoms: nausea, headaches, dizziness and shortness of breath.
*Try acclimatizing to the altitude before the big day.
*Drink plenty of water. Our recommendation is 1 glass of water for every alcoholic drink.
*How about hiring an oxygen bar? It can work wonders for minimizing any unwanted nausea and headaches.
DONT: DO EVERYTHING YOURSELF
Tackling the endless to-dos of Colorado wedding planning can be tricky all by yourself—so how about hiring a wedding planner to take the pressure off? Professional wedding planners perform miracles with organization, keeping everything ticking along and making sure it all runs smoothly.
Having a helping hand also means you have more time to savor every moment of your celebrations, including any pre-wedding occasions like a rehearsal dinner or bachelor/bachelorette parties. Your wedding is a time to rejoice, not get unnecessarily stressed.
GET IN TOUCH: COLORADO WEDDING PLANNING RUNS SMOOTHLY WITH US
Want to start planning your Colorado mountain wedding? Get in touch with us to explore your options. Wedding planning in Colorado is made easy with more than 20 years of expertise.
Contact us online or call us at (970) 754-8050 today to learn more.
Also, check out our other blogs for more information on the exciting wedding events and occasions we can help plan.