Larkspur: Your Fairytale Vail Wedding Venue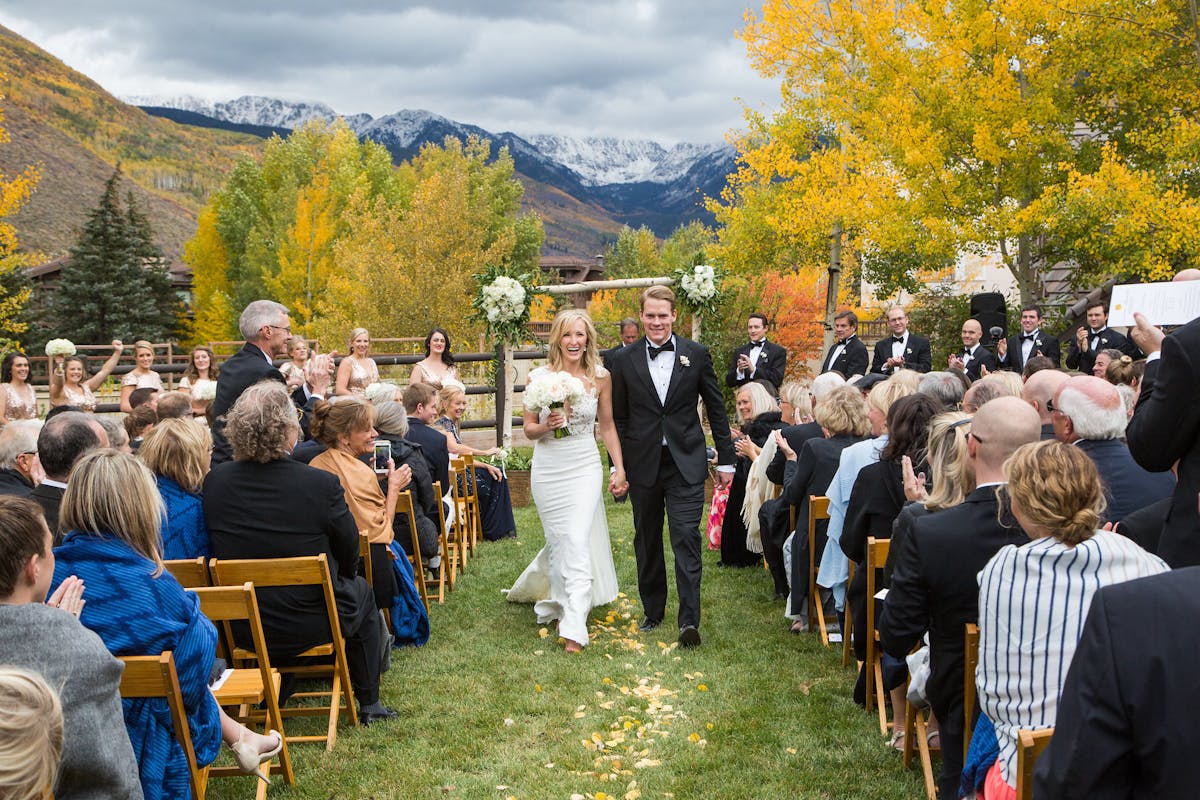 At Larkspur, we believe your Vail wedding venue should have it all – stunning views, delectable cuisine and first-class service. It's this very combination that has cemented our reputation as the number one wedding venue in Vail, Colorado.
We know a thing or two about creating unforgettable celebrations. After all, we've been planning extraordinary Vail weddings for more than 20 years now, and we're proud to have won a selection of industry awards in the process. So, if you're seeking a Vail wedding venue like no other, here are five things that you can expect from a wedding held at Larkspur.
We'll Provide a Dream Backdrop for Your Vail Wedding Day
We have an idyllic location at Larkspur. Our unique Vail wedding events venue is tucked away in a peaceful spot in Vail Village. When you wed here, in the heart of Vail Valley, you'll have a backdrop of aspen trees that overlook Colorado's spectacular Gore Range mountains. Depending on the season you're celebrating in, you can factor in the likes of romantic snowy peaks, lush green surroundings or a sea of autumnal crimson and orange hues. All in all, you'll be set for amazing wedding photos you can really cherish–any time of year.
Choose From a Range of Settings for Saying Your Vows
We cater for all party sizes, from intimate groups of 10 or 20 to larger-than-life celebrations with up to 500 guests. Weddings at Larkspur can take place indoors or outdoors, under cover or out in the fresh mountain air. From our elegant patio to our manicured lawn, we've got a selection of picture-perfect ceremony location for you to choose from.
And for your reception, we have private dining rooms, a stylish mountainside bar and a light-filled restaurant all in the mix.
Our tented Vail weddings take place from May to October, and they offer all the benefits of an indoor venue with the added bonus of incredible mountain views. We work with trusted tent rental companies, and we'll take care of the structure, the floor and the lighting. It's then entirely up to you to personalize your perfect interior.
Alternatively, you might consider dining with your guests out in the open – you'll sit down with your loved ones just as the sun starts to set, and then you'll raise your glass for a toast right under the stars. Whatever you've imagined, we can make it happen.
Larkspur Is Home to the Best Culinary Experts in the Business
When it comes to wining and dining, you and your guests are in good hands at Larkspur. We've been in the hospitality business for more than two decades, and our attentive, personalized service is matched by a dining experience that's both innovative and sustainable.
We've got a team of talented chefs who are well-versed in creating thoughtful menus for your special day. We source only the freshest local produce for our culinary delights, and we can cater for all dietary requirements – just let us know your needs and we'll take care of everything.
Like the rest of your Vail wedding package, our menus are completely customizable. Opt for a traditional three-course meal with elegant dishes such as confit duck terrine and Chilean sea bass. Or choose something a little more informal – like a stone-fired pizza station or an artisan cheese stand.
Whatever menu or set-up you go for, you can expect a seamless food and drink experience throughout. From cocktails and hors d'oeuvres by candlelight, to a generous late-night buffet adjacent to the dance floor, we're on-hand to ensure everything is in place and that everything flows effortlessly throughout the event.
Our Dedicated Team Will Be There Every Step of the Way
At Larkspur, we understand that your wedding day is the single most important day of your life. Our expert events team is made up of highly skilled individuals who'll be with you throughout the planning stage. We're here to make this an occasion to remember, taking care of every detail to ensure your day is as unique and special as you are as a couple.
We Want to Welcome You Back Time and Time Again
Vail weddings aren't the only thing we excel at here at Larkspur. We also host rehearsal dinners, brunches, welcome receptions and much, much more.
We're here to deep-dive into your unique vision, and bring that vision to life with the impeccable style we're so well-known for. Get in touch today and let us plan your next celebration.
Would you like to speak with a member of our events team over the phone? Give us a call at (970) 445-0500. You can also contact us by email at info@larkspurvail.com.