Create a Memorable New Years Eve Vail Wedding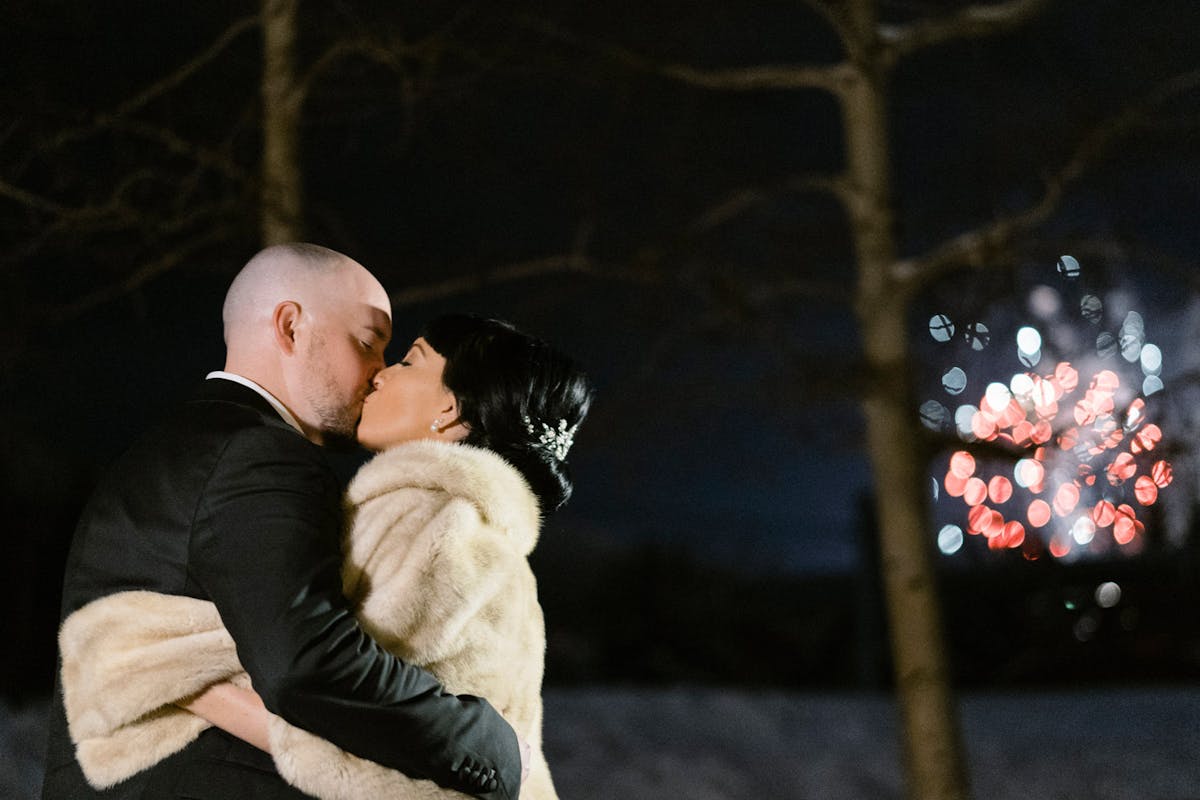 Welcoming in a New Year is always such a special and celebrated occasion between the feeling of new beginnings and endless possibilities flying in the air. A once in a lifetime memorable moment is, of course, the day you marry the love of your life. Larkspur Events and Dining knows how important these unforgettable occasions are for a couple, which is why we host New Year's Eve weddings, to combine these memorable moments together, in the most stunning and desired Vail wedding venue.
A Vail Wedding on New Year's Eve
Here at Larkspur, we offer a beautiful wedding venue in the Vail area for those wanting to celebrate their nuptials in style on the biggest evening of the year. What better way to mark the start of your commitment together than by the biggest and best celebration surrounded by your loved ones on New Year's Eve.
If you're intrigued and eager to learn more about a NYE wedding in Vail, then read on to find out how your spectacular wedding day could look.
Click here to view more photos of winter weddings.
Picture this: a New Year's Eve Wedding in Vail
A New Year's Eve wedding day in Vail promises unforgettable memories and breathtaking moments that are sure to be cherished for years to come. If you're looking for something different than a traditional wedding day, then a New Year's Eve wedding could be the perfect thing for you and your other half. Imagine this...
Say "I Do" in the Most Stunning Setting
Your magical day kicks off around 5.00 pm with your nearest and dearest making their way to your celebration. Upon arrival, guests are escorted to our private mountainside patio with heaters and fire pits to set the mood and stay toasty. Exchange your "I do's" in front of your family and friends. Then stand back and take in the fireworks that Vail sets off at 6:15 pm for the annual Torchlight Parade and Fireworks with the stunning backdrop of Vail Mountain in Golden Peak.
A Cocktail Reception with a Twist
After saying "I do," enjoy a cocktail reception with a twist: we can provide hot chocolate, specialty cocktails, selected wines and other drinks for your guests to enjoy in our bar and the patio. If you choose, we can also pass hors d'oeuvres like tuna tataki tacos, chimichurri beef and soup shooters for your guests to enjoy while they sip on their beverages. Soon afterwards, your guests head into the dining room for the post-ceremony festivities.
Enjoy a Perfect Blend of Food and Drinks
Take a little bit of a breather as your guests select from the dinner options you've selected, such as Snake River Farms wagyu or seared river trout. Rest and nourish yourself while your guests mingle at their tables. And grab another drink before the toasts begin!
Dance Away
And now, the party is on! Let loose and dance the night away with entertainment. Go ahead and build those special dances or two, like the bride and her father, as part of evening's festivities. And don't forget one of the best parts - the wedding cake!
Seal the Celebrations with a Spectacular Sendoff
Seal the magical day off with a New Year's Eve countdown and a special champagne toast before midnight, when you welcome in the new year with your spouse in front of your beloved friends and family. Your NYE wedding day in Vail is now complete with a sparkler sendoff!
Are you getting goosebumps picturing this wedding ceremony and reception?
Let's Plan Your Wedding Day
Here at Larkspur, we understand more than anyone how important a wedding day is to a couple. That's why we have an expert team of highly experienced and skilled individuals who will be by your side throughout each stage of planning. We have over 20 years of experience bringing wedding visions to life. We're on hand to make this a truly unforgettable occasion, ensuring that every detail of your day is as special and unique as you and your partner want it to be.
Vail weddings are our specialty here at Larkspur, and we excel in providing couples with the most unique and exceptional experience to celebrate their love for one another. We're here to envision how your day can look with incredible possibilities and turn your dreams into reality. We're known for our impeccable style and taste, and we can't wait to plan your special day.
Oftentimes our couples have special requests, and we're very flexible in accommodating them. Do you need a gluten-free or dairy-free menu option? No problem. Do you have a special band or musician that you want to use? We have the number to call. And one of the top questions we receive is: what happens if it snows? No worries - we've been doing this for 20 years. We always have a backup plan.
Get in touch with one of our dedicated team members today, and let us help you plan your sensational celebration to make it the most memorable and unique day of your lives.
Contact us online. We look forward to bringing your wedding vision to life! We cannot wait to plan your incredible NYE wedding day in Vail with you and make it the extraordinary wedding you and your partner deserve.
Check out our other blogs here for more information on the exciting events we can help you plan.