8 TIPS FOR PLANNING A WEDDING IN THE COLORADO MOUNTAINS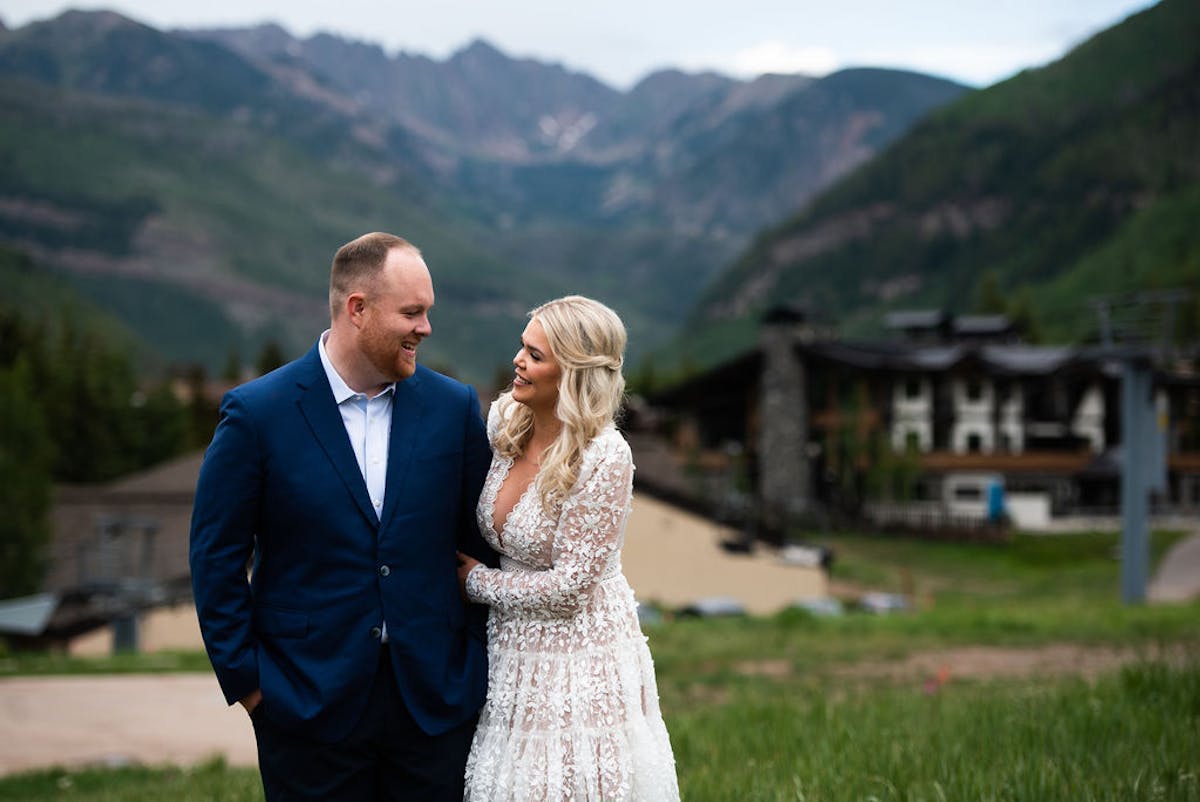 Here at Larkspur Events & Dining, we know firsthand that a wedding in the Colorado mountains is special. With its unbeatable scenic views of rocky mountains, aspen trees and charming mountainside villages, thousands of couples choose a colorful Colorado mountain wedding venue like ours every year—and they don't regret it.
But why are weddings in the Colorado mountains so magical? And how do you go about planning one?
We have 8 must-know tips that can help.
1. ORGANIZATION IS KEY
First things first, organization is key when planning a wedding in the Colorado mountains. Before making any final decisions, take some time to figure out exactly how you envision your big day. Once you know what you want, make a to-do list with priorities.
Also, be aware that every state and county has different marriage license laws. So research the requirements for the state and county you're getting married in.
A marriage license here in Eagle County currently costs $30.
2. HAVE A BAD WEATHER PLAN B
Colorado weather can be unpredictable, so put in a bad weather plan B for your Colorado wedding plans. While an outdoor wedding is wonderful for making the most of the gorgeous Colorado views, it's best to have a backup plan in case it takes a turn for the worse.
The sun could be beaming one day, and a blistering snowstorm the next—even in the milder months of the year. Most wedding venues will be able to offer a bad weather plan.
3. MOUNTAIN WEDDINGS CAN BE GLAMOROUS
The outdoorsy vibes of a wedding in the Colorado mountains naturally conjure up the imagery of rustic decor. And if it's a natural wilderness style you're looking for, great! But don't feel like mountainside weddings can't be upscale and glamorous.
In fact, Colorado mountain wedding venues are some of the most luxurious venues out there. So if it's a sophisticated and elegant reception you're after, invite guests to put on their finery and opt for glam wedding decorations and accessories. Think diamonds, magnificent flowers and a grand cake.
4. THINK ABOUT ACCOMMODATIONS
The vast majority of Colorado's mountain wedding venues are situated miles away from large nearby towns and cities, so plan your accommodations ahead of time.
This is especially important if you plan to have a lot of out-of-town guests. Take their needs into account by researching the area beforehand. Make a list of all the local hotels and private residences for them. Chances are if they're traveling far for the wedding, they'll want to make the most of their trip.
Here at Larkspur, we have many lodging partners that we work closely with. We'll share the list as soon as we know your guests' needs.
5. THINK ABOUT TRAVEL PLANS
Colorado mountain wedding venues can sometimes be tricky to get to, especially if your ceremony or reception is taking place in a remote mountain area that's not the most accessible location. So make safe and efficient travel arrangements for both your and your guests.
Putting specific directions on the invites is always a good idea along with recommendations on weather appropriate attire. That way your guests have all the information they need to make travel plans from the get-go.
6. CHOOSE THE RIGHT CEREMONY TIME
Having spectacular panoramic views as your backdrop is one of the many reasons why couples choose to have a wedding in the Colorado mountains, so make sure you time your wedding perfectly to make the most of the gorgeous scenery.
We're big believers in the magic of a sunrise wedding. An early morning ceremony is a way of catching the extraordinary sunrise lighting of the golden hour, which lends itself to incredible photos. Plus, you'll have so much more time left in your day to celebrate with friends and family when the nerves of the ceremony are out the way. So if you can handle the early start, we definitely recommend it.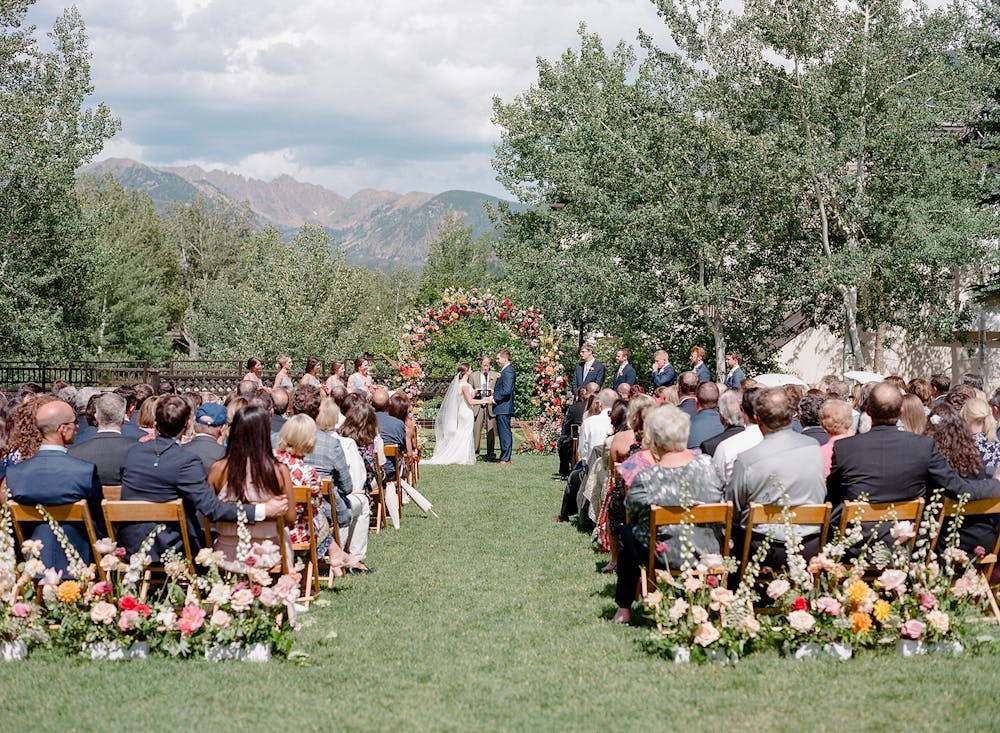 7. BE CAUTIOUS OF HIGH-ALTITUDE DRINKING
The effects of high altitude is another important thing you should be aware of when planning a wedding in the Colorado mountains—especially if lots of champagne will be flowing at your reception. Be aware that alcohol has a bigger effect on the body when you're at a high altitude and the oxygen levels are lower, so gently remind guests to take it slower than usual. Also, provide plenty of non-alcoholic beverages during your event.
Larkspur's home of Vail Village sits at around 8,150 feet, so we always encourage guests to be sensible at the bar. It takes a while for the body to adjust to the altitude, let alone adding alcohol to it.
8. DON'T BE AFRAID TO ASK FOR HELP
If you're worried about the do's and don'ts of having a wedding in the Colorado mountains, don't be afraid to ask for help. That's what the pros are for! With Larkspur's team of expert wedding planners, we know a thing or two about the importance of efficient wedding preparations, so rest assured you can rely on us for a truly customized experience.
We'll support you every step of the way to create the dream celebrations you've always imagined. The experience of planning a Colorado wedding should be wholly enjoyable, not demanding.
GET IN TOUCH TO PLAN YOUR WEDDING IN COLORADO MOUNTAINS
Want to start planning your special dream day? Inquire today to get the ball rolling.
Our skilled wedding events team will help plan and execute every detail flawlessly as you savor every moment. Contact us today for more information.
Check out our other blogs here for more information on the exciting things we can help plan.