Restaurant Options at Larkspur Events & Dining in Vail, Colorado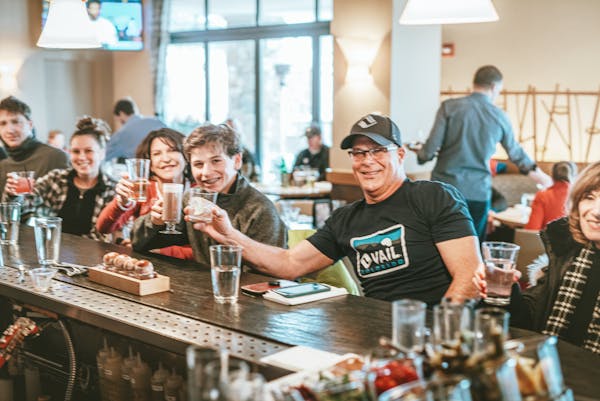 At Larkspur Events & Dining in Vail, Colorado, we offer several different dining options from lunch to après ski (happy hour) to dinner for groups. Located at the base of Golden Peak, you can see the views of Vail Mountain literally steps away from our patio, providing a beautiful dining experience.
Fresh, Seasonally Inspired Cuisine
At Larkspur, we believe in using fresh, seasonally inspired ingredients wherever possible. For example, we make our homemade Palisade tomato soup and our classic iceberg wedge salad with fresh Palisade beefsteak and shady lady tomatoes from Palisade, Colorado.
Additionally, we take inspiration from food that's available during the beautiful seasons that Colorado has to create new menu options. So whether it's a spicy, warm soup in the wintertime or a fresh vegetable salad in the spring, we make use of what's available seasonally in the area.
We offer gluten-free menu options, and we're happy to work with dietary restrictions.
Lunch in Vail
Starting in fall (December 4th this year), we offer lunch at Larkspur from 12-2:30 p.m. We take lunch reservations so you can get right in. Like our après ski and dinner menus, we provide seasonally inspired options. From starters to salads to sandwiches, we have a little bit of everything. We also have a children's menu that's sure to please the young skiers or guests in your party.
Après Ski / Happy Hour
Here in Vail, our guests can celebrate après ski (happy hour) with us daily from 2:30-4:30 pm. During this time, we have open seating and an après ski food menu. Our specialty cocktail menu has a variety of drinks, from Aperol spritzes to 919s to smoky mountain manhattans. And of course, we have a variety of wine and local beer choices.
Group Dining for Dinner
We offer dining for dinner for groups of 10 or more starting at 6 p.m. until we close. Guests can dine by our open kitchen or in a private dining area. Our specialized dinner menu includes a variety of starters and entrée options. Our seasonal menu items include sea bass and Snake River Farm's wagyu zabuton.
Safety Measures
COVID-19 has undoubtedly changed the way the restaurant industry operates. At Larkspur, we've changed our day-to-day processes per local and CDC guidelines, including changing the dining seating to be 6 feet apart, wearing facial coverings and enforcing strict cleaning procedures. You can rest assured that we're taking the necessary steps to provide a healthy environment. To read more about the steps we've taken, read our playbook here.
Getting Here
From 11 a.m.-2 p.m., you can park at the Golden Peak skier drop off parking lot for an hour with validation. You can also use Vail's local bus service, which runs throughout the town.
Dine with Us
We hope this gives you a good overview of the types of dining we have available. To make a reservation through open table, click here. If you have any questions, you can reach us by phone at (970) 754-8050 or email info@larkspurvail.com. We look forward to seeing you!