Gather Your Family and Friends for "Tomorrow's Dinner" at Larkspur's Restaurant in Vail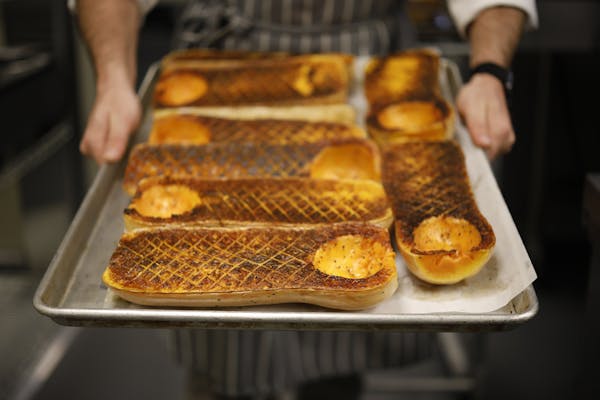 Here at Larkspur Events & Dining in beautiful Vail, Colorado, we're all about innovation combined with the best customer service. To that end, we're thrilled to introduce a new concept in dining called Tomorrow's Dinner. Bring your family and friends together for dinner out with us with only a 24-hour notice. We know that dining out is still rather tricky during COVID-19, so we hope that Tomorrow's Dinner will provide you with a more flexible dining experience for larger parties. Here's how it works.
Tomorrow's Dinner: Plan Your Party at Our Restaurant in Vail
Tomorrow's Dinner is like a reservation that can be placed with only a 24-hour notice for parties of 10-24 adults. We also welcome children once we have that 10 adult minimum. This option gives you the flexibility to plan an event with a short notice.
You have a few different options for Tomorrow's Dinner. You can begin the evening with a cocktail reception in which guests can savor a drink and the chef's choice of three passed hors d'oeuvres. After the cocktail reception, we'll seat your party for a 3-course plated dinner. Or you can choose to skip the cocktail reception and dive right into dinner.
The 3-course, pre-fixed menu offers a selection of starters, entrées and desserts. It includes nut-free, dairy-free and gluten-free options. To get started with a Tomorrow's Dinner reservation, simply contact us. Now let's dive into the fun details of how it works.
Cocktail Reception and Passed Hors d' oeuvre Option
If you choose the cocktail reception and passed hors d'oeuvres option for Tomorrow's Dinner, your guests will be escorted to our bar once they arrive. They'll have the option to select a specialty drink, wine, beer or non-alcoholic beverage. Our service staff will pass three hors d'oeuvres while your guests mingle and check out the spectacular views of Vail. Our chefs will make creations based on seasonal and local ingredients. which may include tasty bites of chimichurri beef, truffle mushroom croquettes or tuna tataki mini tacos.
Specialty Drinks, Wine or Beer
We're sure you'll find something magical to sip from our specialty cocktail menu. We can make a variety of drinks, from 919s to Aperol spritzes to smoky mountain manhattans. We also have an array of fine wines and local beer. Our beverage director will be happy to assist you in making wine selections. We also offer a variety of non-alcoholic options, from soft drinks to teas to mocktails.
The Menu: a Mix of Larkspur's Favorites
Your guests will be treated to a selection of options for their 3-course dinner. To start, guests can choose between our take on the classic Caesar salad, which comes with homemade crispy croutons made out of potatoes and shaved red label reggiano cheese, an ahi tuna crudo with finger lime and grilled avocado, or our seasonal soup.
For the entree, choose between Snake River Farms wagyu zabuton with a potato pave and locally grown mushrooms or a Chilean sea bass with cassava, sweet baby peppers and saffron broth. During the night of the event, our chefs will offer a vegetarian entrée option made with fresh, local ingredients.
Don't forget dessert! Your guests may want to order an after dinner drink like a dessert wine, port or coffee to enjoy their dessert. We have a fruit option, and of course, a chocolate option. Our Larkspur apple tart is made fresh with Granny Smith apples, vanilla bean ice cream and frangipane. Our dulcey bavarois chocolate cake is rich but airy and is topped with a hazelnut brittle.
Your guests won't go hungry with this menu! To help our guests with dietary needs, our menu states which options are nut-free, dairy-free and gluten-free. If your party includes children, we'll provide them with their own special kids menu.
Linger with Your Company After Dinner
After dinner service is over, we invite you to linger with your party for a drink in our bar or beautiful mountainside patio, or choose both, as the bar opens to the patio. If you opt to enjoy the winter evening on our patio, our heaters and fire pits with comfortable ottoman seating will keep you toasty warm while you enjoy the view of the slopes at Golden Peak and the Gore Mountain Range.
Pick Your Guests and Event Date
As we've mentioned, you can arrange a Tomorrow's Dinner at our restaurant in Vail with only a 24-hour notice, so if you're not a planner, this event is perfect for you! When you're ready with your guests and date, just give us a call or contact us online. We'll walk you through the process and options, and you'll be set in no time. See you tomorrow!