Visit Us Safely and Happily During Vail, Colorado COVID-19 Restrictions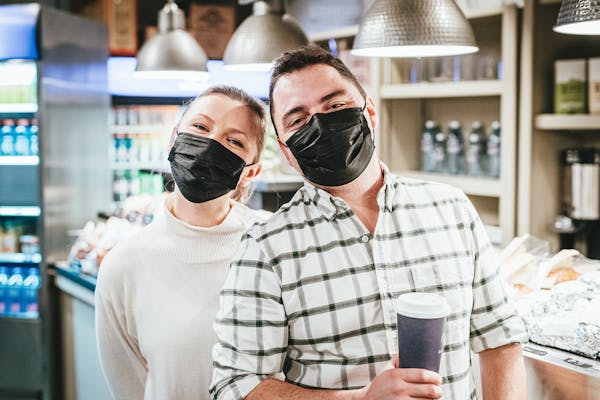 Last year's ongoing COVID restrictions and guidelines have unfortunately rolled into 2021, so we changed the way we're doing business to adhere to all Vail, Colorado COVID restrictions here at Larkspur Events & Dining to keep our customers and staff safe. Not only is health and safety paramount to our operations, but your enjoyment of our exceptional dining and events is just as important. We're striving to keep you celebrating and making special memories with us, but we're also here to help you feel safe, secure and happy on our grounds. Please continue reading to see what precautions we're taking and how you can still safely join us for your wedding, celebration, event or dining with us.
And some exciting news: all Eagle County restaurant workers will be able to start receiving the COVID-19 vaccine! Stay tuned for updates as we enter the next phase.
We're Still Here for You
We've all been unwillingly thrust into a new world of changes and restrictions, and the events and restaurant industry has consequently been hit pretty hard to adapt and change the way it operates in our challenging new environment. However, we've never felt more committed and confident that your experience with us will be special.
We're here to accommodate your next visit with care. We've been following all the Eagle County Public Health and Environment (ECPHE) and Centers for Disease Control and Prevention (CDC) recommendations. To communicate with our employees and guests, we've put together a COVID playbook that outlines our general safety practices for all those working in or visiting our venue. In this blog post, we'll provide some highlights from our playbook so you can see the precautions that we're taking.
Screen Staff Every Day
We screen our staff every day before a shift starts. Our safe practices for daily screening include:
Taking temperatures using a touchless forehead thermometer
Inquiring verbally about any symptoms
We document these temperatures and answers, and keep them in our records.
Hand Sanitizing
Hand sanitizing is a key component of our overall health guidelines.
We require employees to wash their hands regularly before and after using plastic gloves
We require employees to sanitize their hands every 30 minutes
We've added hand sanitizing stations throughout our venue
We require kitchen employees to use latex gloves when handling food
Face Coverings
Face coverings are required in public at this time.
We provide face coverings for our employees
We require guests to wear face coverings at all times when they're not consuming food or beverages in our venue
Social Distancing
We follow social distancing protocols.
Employees must be 6 feet apart wherever possible
We've set up one-way paths whenever possible
We've added directional markings and yield signs for right of ways at bottleneck areas
We've implemented designated work stations for food prep and cooking, service stations, glass washing/polishing and dishwashing to minimize contact
Disinfecting and Cleaning Protocols
We've established stricter disinfecting and cleaning protocols within our venue.
We've Implemented a disinfecting schedule (using a mixture of peroxide and water) for bars, satellite bars, dining room, kitchen, restrooms, service stations, meeting/conference rooms and offices
Employees add a record in a log when when they disinfect
Contact Tracing
We've implemented contact tracing: guest contact lists are highly encouraged to be able to follow up with event attendees and participants.
Just Ask Us
It's important for us to continue providing you with the services that we love to provide. If you have any questions regarding an upcoming event you've booked with us or if you have a general question about the way we're operating in these challenging circumstances, please contact us. We're happy to resolve any concerns you may have or help plan your next visit while our Vail, Colorado COVID restrictions are still in place.
Get in Touch
For reservations and bookings, please contact us. We'd love to book a table for you at what we think is one of the best restaurants and event venues in Vail or assist you in bringing your dream celebration to life in our beautiful indoor and outdoor spaces.
Check out our other blogs here for more information on the exciting events we can help you plan.