What You Need to Know About Colorado Wedding Venues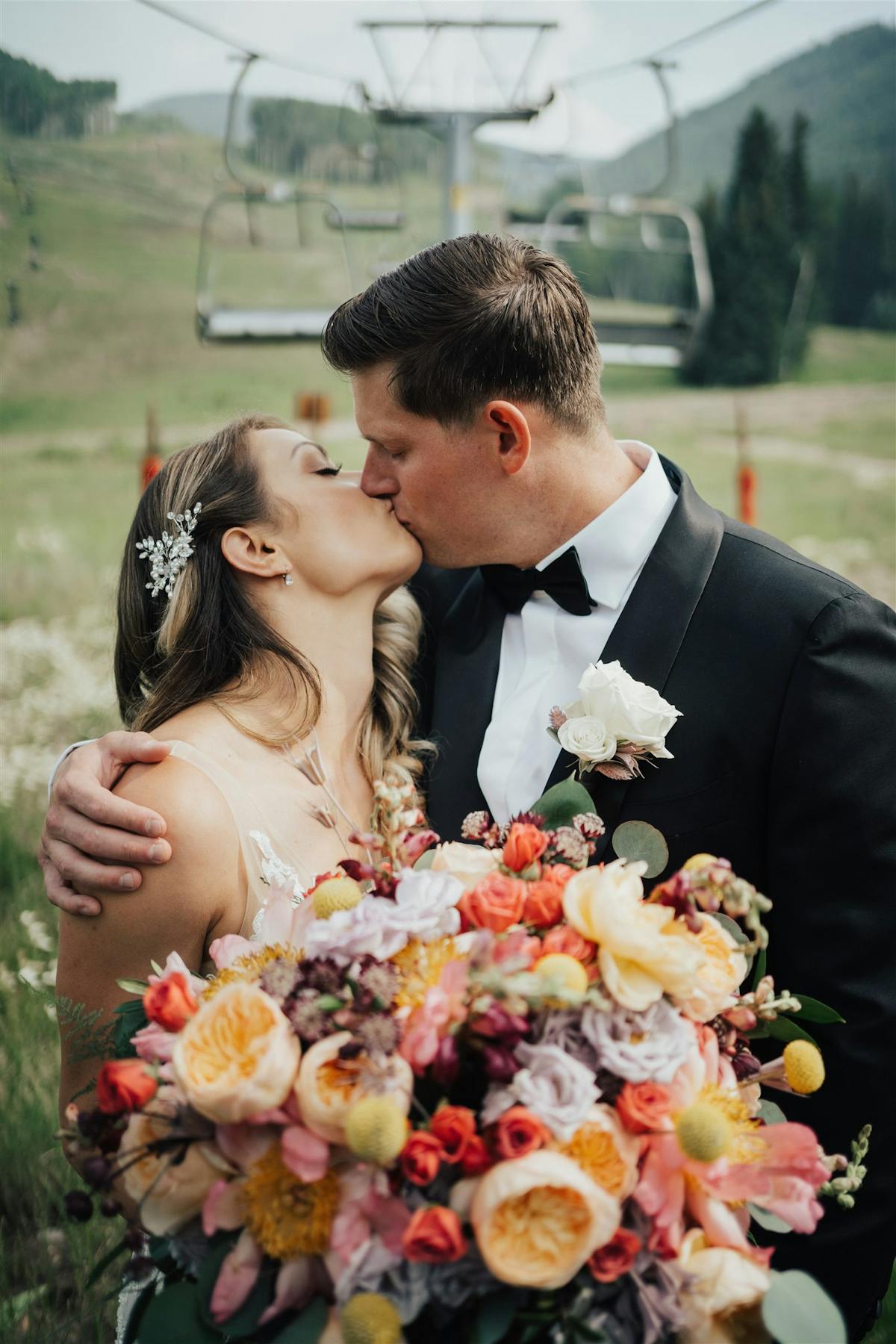 Planning your big day involves ticking off a list of to do's, but it all starts with picking a wedding venue that you and your partner absolutely love. Choosing the right venue for your wedding is perhaps the biggest decision of all. That's why we want to share the ins and outs of Colorado wedding venues.
Here at Larkspur Events & Dining, we know firsthand why the state of Colorado is such a popular wedding destination. And one of the biggest reasons why so many couples choose Colorado is the wide selection of wonderful venues that are nestled nicely into the state's gorgeous mountains. You simply can't beat the beauty of nature when it comes to creating the perfect backdrop for your wedding celebrations. The picturesque views of the Gore Range out on our very own lawn make any wedding day an extraordinary one!
So let's take a look at what you need to know about Colorado wedding venues, especially our own venue here in the charming town of Vail. We'll provide you with important details and information you need about deciding whether Colorado is the destination for you.
One thing is for sure: outdoor wedding venues in Colorado are some of the best venues in the world! So keep your eyes peeled and your options open.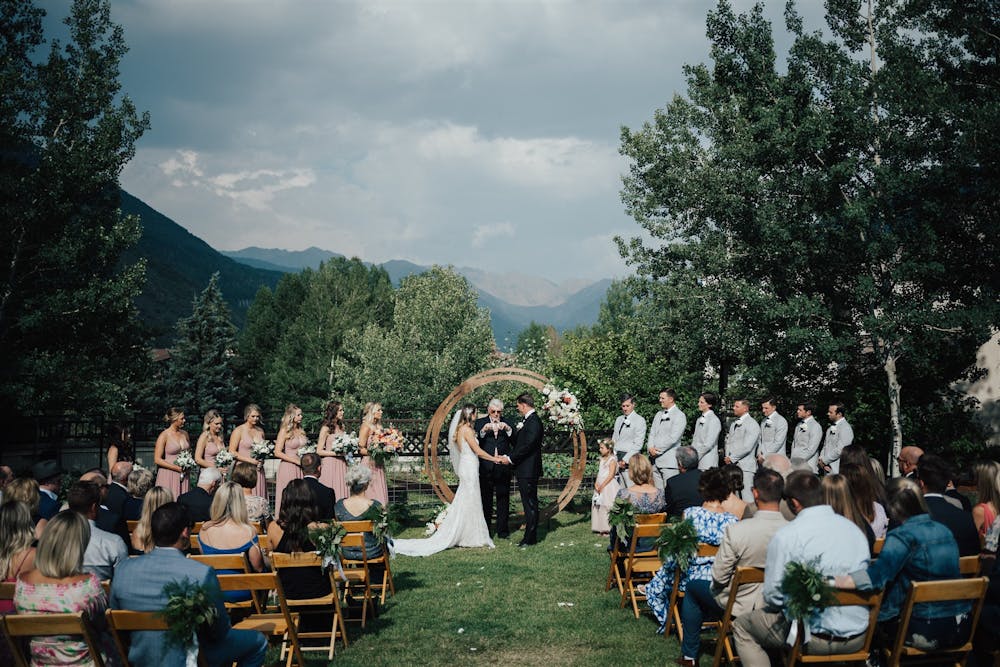 photo by Nate Shepard (above)
Why Book Your Wedding in Colorado?
Colorado is the perfect wedding destination with its combination of stunning scenery, outdoorsy activities, and a large choice of beautiful wedding venues. The best of what the state has to offer is simply not to be missed, from our snow-capped mountains to water-gushing canyons and lush green forests.
Colorado wedding locations offer outstanding backdrops waiting to be taken advantage of, no matter the individual style, theme, and décor you go for. Enjoy the spectacular scenes when capturing your all-important photos or simply whilst enjoying an aperitif before your evening meal.
Larkspur is one of the premium outdoor wedding venues in Colorado, and our grounds have wonderful outdoor spaces that you can use for your own special day. Our lawn offers up extraordinary views of Vail's rolling hillsides, making it perfect for any outdoor ceremony. Our outdoor patio space also has panoramic views of Golden Peak's ski slopes, and best of all, it has outdoor heaters and fire pits to keep your guests warm when it starts to get chilly.
Can You Get Married in the Colorado Mountains?
Of course! Many Colorado wedding venues are purposefully situated within mountainous towns and villages. The Colorado mountainscape is the ideal outdoor setting for anyone's big day, and many couples choose to make the most of the landscapes that surround the mountain venues.
Whether your dream wedding is a formal wedding reception in a top-end mountain resort or a casual reception in a rustic barn, any Colorado wedding venue setting can be tailored to match your specific needs and desires. You just need to find the right venue first!
Larkspur is very different from a standard banquet hall venue simply because we have so much more to offer. We pride ourselves on our combination offerings of exquisite culinary delights, second-to-none service, and a selection of flexible indoor and outdoor spaces. Our venue makes great use of the surrounding mountain views, so talk to our Larkspur events team today to find out how we can help build your perfect setting.
What Makes Colorado Wedding Venues so Memorable?
Colorado is stunning all year round. There's something to marvel at during any of the four distinct seasons, so rest assured your Colorado wedding will be beautiful no matter the time of year you choose.
The winter months are a wonderland of snowy mountain peaks and bustling ski resorts, while the vibrant summer brings warm sunny days that are perfect for an outdoor ceremony. Springtime also brings an abundance of natural beauty with blossoming flowers and forests of aspen trees, and fall is just as beautiful when the air turns crisp and golden leaves start to fall.
Wedding receptions in Colorado are especially memorable in Winter when things come to life. Upscale Colorado wedding venues like ours here at Larkspur offer a modern wedding experience set amongst the Vail's wintertime. Our dedicated events team will assist you in planning a day that blends the coziness of our indoor spaces with the white paradise that awaits outside.
Check out our winter wedding gallery for more inspiration.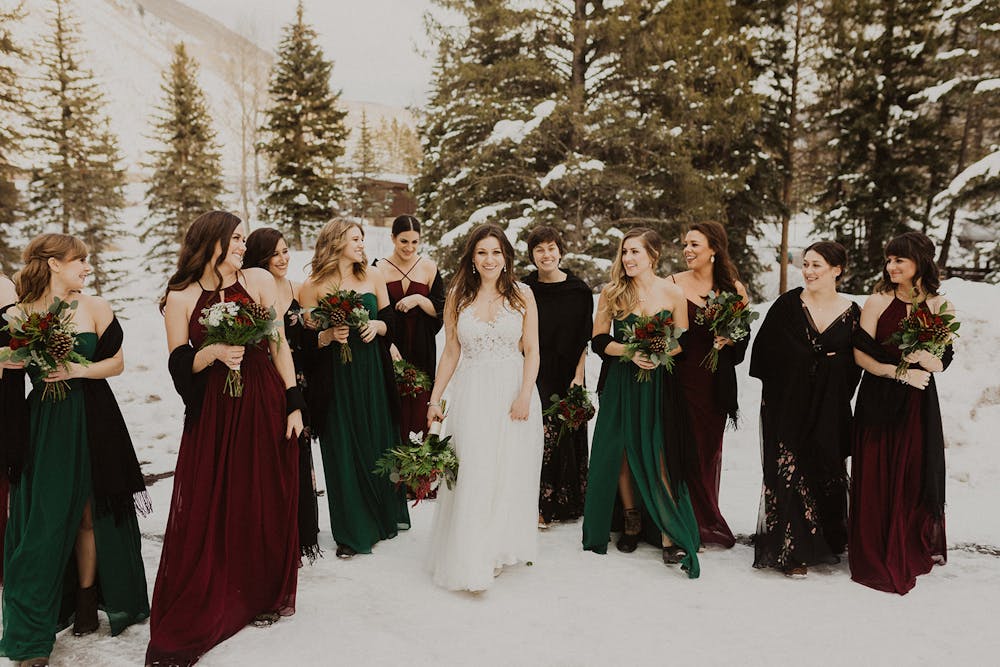 photo by S.Lynne Photography (above)
What's the Average Cost of Wedding Venues in Vail, Colorado?
Vail, Colorado wedding venues differ in their cost. The price depends on your individual budget, including the venue you choose and the specific requirements and preferences you desire, such as your guest count, food & beverage offerings, decor, entertainment etc.
For more answers to any questions you may have, check out our FAQ page.
Wedding Venues in Colorado: Other Important Things to Remember
See if the Venue Is Available and Within Budget
First thing first, set dates that will work for you! Then check that the venue is available and most importantly, that it's within your set budget. Colorado's premium wedding venues will book up fast, so it's always best to double-check availability before your first viewing.
Ensure that the Venue Has the Right Services and Facilities
Be sure you know exactly what's included in the price. Venues differ in terms of their included services and what the price accounts for, including catering, admin fees, etc, so make sure you look at the price list in full.
Some Colorado wedding venues may require you to use their own partnered vendors, so be sure that you're 100% with the services and facilities before signing any contracts.
Consider Your Guests' Comfort and Enjoyment
Ensure that the venue has the right capacity for your specific guest list. Look at the rooms and spaces that are available and check that your guests can be accommodated comfortably.
Although your special day is yours, it's also important to think about how much your guests will enjoy themselves too. Is there overnight accommodation nearby (or within the venue itself)? Are there leisure and entertainment facilities nearby? What about transportation?
Contact Us Today About Our Colorado Wedding Venue
There's a whole host of beautiful places to get married in Colorado, but Larkspur is a first-rate Colorado wedding venue that offers up the perfect blend of a gorgeous Vail location, attentive hospitality, and one-of-a-kind culinary experiences.
Contact us today for more information on how we can execute your plans and exceed any expectations you have on Colorado wedding locations.
Check out our other blogs here for more information on the exciting events we can help you plan.