WHY LARKSPUR IS AN EVENT VENUE WITH A DIFFERENCE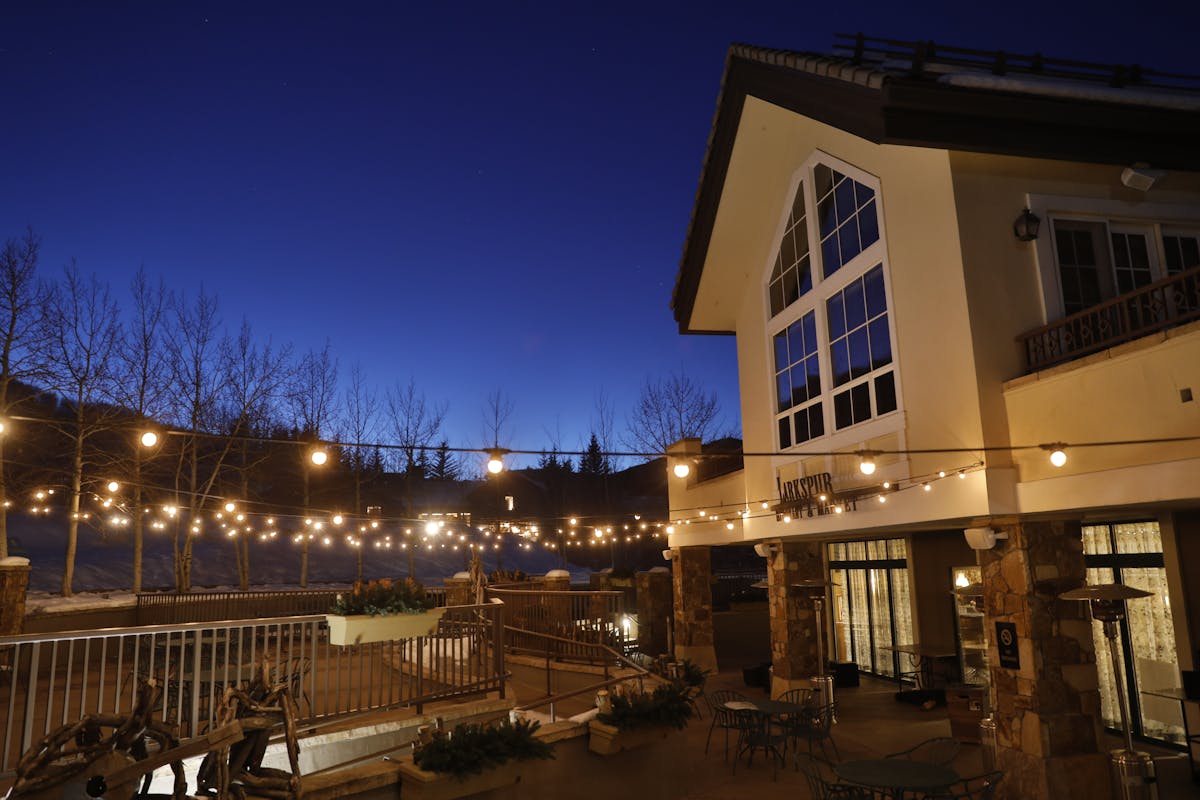 Looking for a premium event venue with that je ne sais quoi? We here at Larkspur Events & Dining are proud of our award-winning event spaces. We've hosted thousands of events over the years, ranging from big fairytale weddings to special birthday parties to formal business dinners.
Whatever you need our event venue for, we have the planning skills and the years of experience needed to execute your vision flawlessly. We're a highly acclaimed events provider who always goes above and beyond.
So what makes us a one-of-a-kind Colorado events venue?
Well, we don't often blow our own horns, but there's a special blend of four ingredients that help make any Larkspur event an extraordinary experience.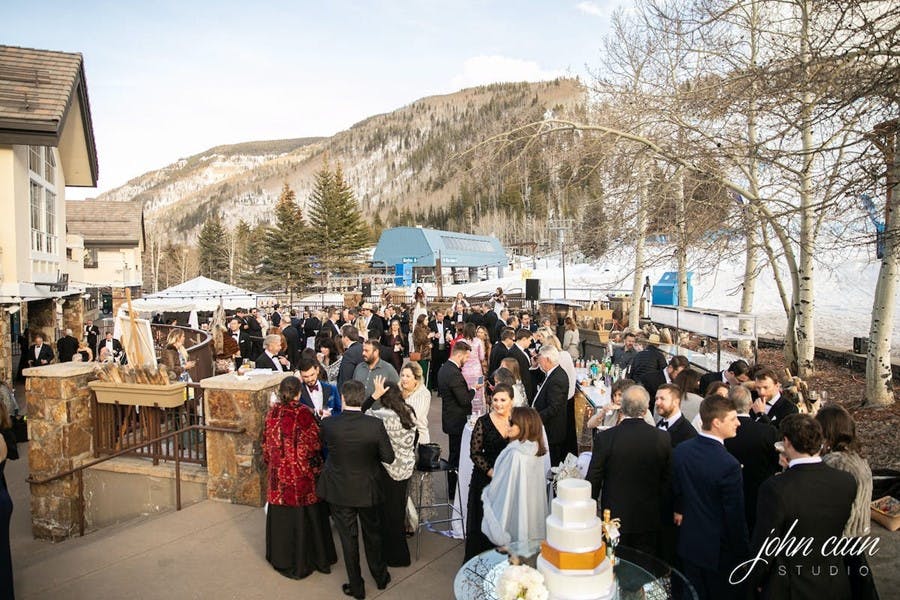 INGREDIENT #1: SPECTACULAR MOUNTAINSIDE SETTING
Our special location in Vail Village is the first ingredient that makes us so extraordinary. It's usually the first thing our guests notice when they arrive—you simply can't help but stop and stare at the sweeping mountain views surrounding our grounds.
You'll find our venue nestled nicely in a quiet corner of Vail Village, right at the base of Golden Peak by the Riva Bahn ski lift. With such a prime spot, we're firm believers that Larkspur is home to some of the best views of the sprawling Gore Range in the whole of Vail.
In spring, the snow begins to melt and flowers bloom on picnic-ready fields. And in summer, the sun fully beams down on lush hillsides as fresh air flows through the valley. Then in autumn, the mountains look their most beautiful, with aspen trees turning golden and the first flurries of snow starting to fall.
Perhaps best of all is winter. White blankets cover the slopes of Vail Mountain and flocks of excited skiers make their way to our bustling bar for a well-needed après ski drink.
Whatever time of year you visit, it's the views that make our event venue so picturesque.
INGREDIENT #2: SENSATIONAL CULINARY OFFERINGS
Looking for restaurants with event space? Look no further than our highly-acclaimed Larkspur restaurant, which is only open in the winter and doubles as an events destination. We're not just caterers, we're experience providers sharing the culinary wonders and delights that our talented team of chefs work so hard to create.
Depending on what type of event you're planning, we collaborate with you to dream up a personalized menu to truly get your bellies rumbling with excitement. Take a look through our events menu to see what takes your fancy from our current selection—from tantalizing reception stations full of Larkspur favorites to late-night snacks to satisfy midnight cravings.
All of our culinary offerings can be personalized too. Our culinary team will work with you to find just the right dining style for your budget and unique event plans. We never serve food that's not quite what you want—rest assured it'll perfectly fit your tastes, preferences and dietary/allergy requirements. Restaurants with event space don't come more fabulous than Larkspur.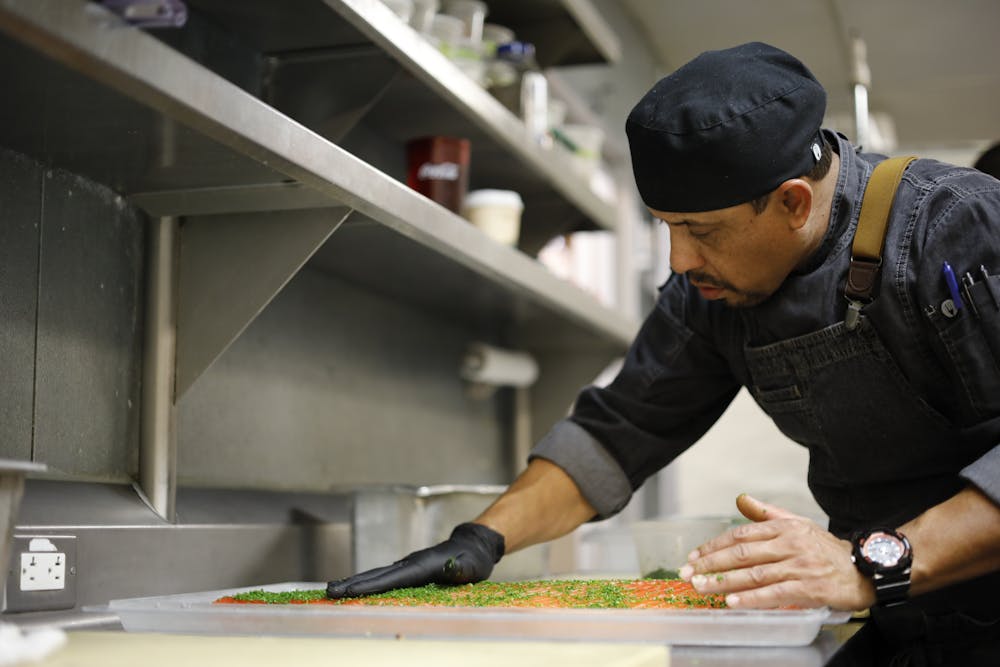 INGREDIENT #3: OUTSTANDING HOSPITALITY
We think hospitality is the fundamental factor that turns a standard events space into a five-star all-inclusive venue like ours. We have over 20 years of experience in the event industry, and it shows. Planning and executing magnificent events is what we do best. Come to us with your ideas and aspirations, and our friendly and personable events team will come up with a perfect plan tailored to your must-haves and definitely-nots.
In fact, every Larkspur team member loves providing impeccable service. Warm and welcoming hospitality is second nature to all of us. Whether it's the beaming smiles from your waiters or the bar staff who'll concoct a cocktail unique to your palette, you can relax knowing you're in safe hands here.
INGREDIENT #4: STUNNING EVENT SPACES
The last ingredient is perhaps the most important: our selection of stunning event spaces. Every inch of our 5,500-square-foot venue has been specially designed to accommodate your event with style, glamour and flexibility. With a variety of indoor and outdoor spaces to choose from, you can choose to have the whole venue, one specific space, or combine a few that flow together nicely.
Whether you're a small group of 10 or a supersized party of 500, rest assured there's a space suitable for your unique event plans. For example, you can:
Enjoy a birthday garden party out on our pristine Lawn

Party the night away at your wedding reception in our stately Great Room

Celebrate a champagne-fueled special occasion in our chic Wine Room

Host corporate team-building activities in our state-of-the-art meeting rooms
These examples are just the tip of the iceberg for what we can pull off in our wonderful spaces. Get in touch whenever you're ready to start planning.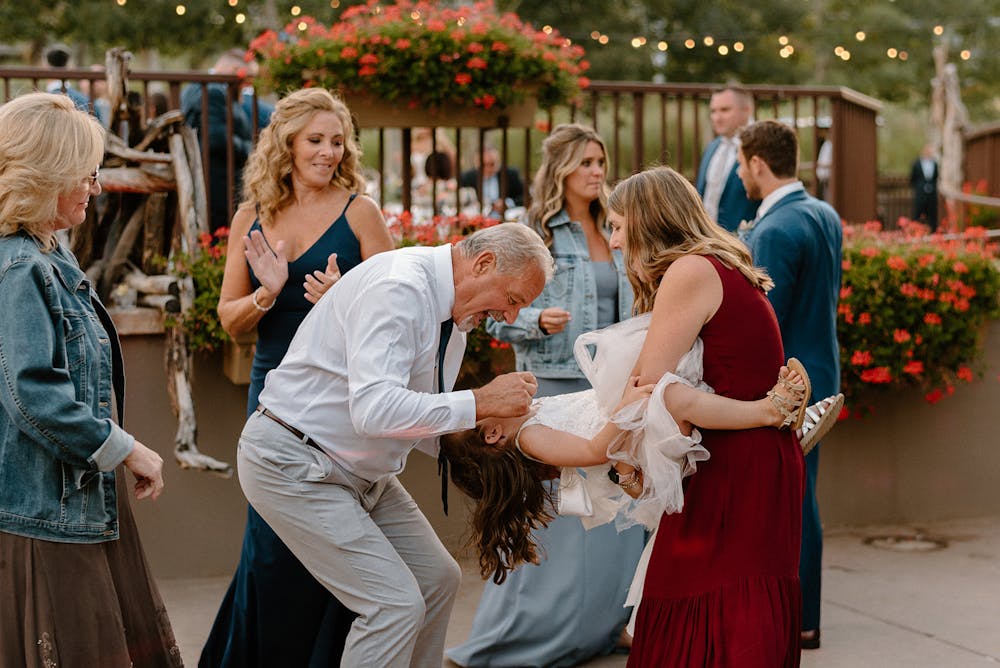 GET IN TOUCH TO PLAN YOUR SPECIAL OCCASION IN OUR EVENT SPACES
Want to start planning your special occasion or big celebration in our event space TODAY? Enquire right now.
Our skilled social events team will help plan and execute every detail flawlessly. Contact us today for more information.
Check out our other blogs here for more information on the exciting things we can help plan.